What Parents Should Know Before Contacting an Online ADHD Provider
ADHD Weekly, February 17, 2022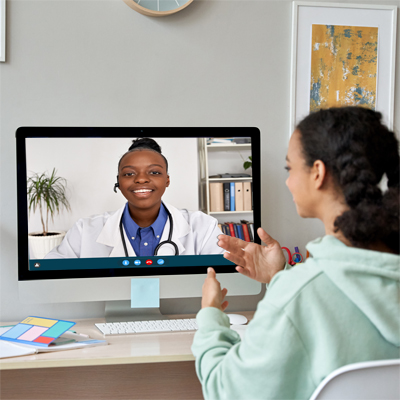 After the frustration of trying to find an ADHD specialist near you and then attempting to schedule an appointment for your child, you might consider a telemental health service as a faster alternative. New online ADHD-specific mental health companies are advertising their services, and more people are taking advantage of the opportunity to schedule with one.
Telehealth services can cut down on wait times for appointments and save travel time. An online appointment may help your child feel less nervous about meeting a new doctor since they can participate in the familiarity of home. Although more online telehealth services—such as Done, Cerebral, and ADHD Online— started up during the COVID-19 pandemic, more options don't necessarily mean you'll receive the same quality of services as you would at an in-person visit.
How can you be sure a particular telemental health service will provide a comprehensive ADHD evaluation or treatment for your child? Parents should thoroughly check out a telehealth service first, says Maggie Sibley, PhD, clinical psychologist at Seattle Children's Hospital and a member of CHADD's professional advisory board.
What should a parent look for?
"When parents are considering an online service for ADHD assessment or treatment, they should make sure that the service is high quality," says Dr. Sibley, "which means that it is thorough, uses scientifically backed procedures, and is delivered by a well-trained licensed provider with valid credentials."
A comprehensive ADHD assessment for a child or teen typically requires multiple visits, each one usually one or two hours in length, says Dr. Sibley. So, if a telemental health service offers only a thirty-minute session, that likely would not be enough time for a thorough ADHD evaluation, to look for common coexisting conditions or consider other reasons for a child's behavior.
Be wary of any telemental health service offering an ADHD diagnosis based upon a single survey, says pediatric neurologist Max Wiznitzer, MD, of the Neurologic Institute at University Hospitals Rainbow Babies and Children's Hospital in Cleveland, Ohio. Dr. Wiznitzer is co-chair of CHADD's professional advisory board and a member of the editorial advisory board of Attention magazine.
"Filling out a survey is just a screener, it shouldn't be the end result," he cautions. Instead, a proper ADHD evaluation should gather information about a child from multiple sources, including parents, other caregivers, teachers, or daycare providers.
"Using quick surveys instead of following careful guidelines to diagnose ADHD can lead to mistakes in the diagnostic process," adds Dr. Sibley. Instead, look for a comprehensive service that allows enough time for you to share your child's medical and life history and offers an evaluation with your child to rule out other possible difficulties. Both Dr. Sibley and Dr. Wiznitzer recommend that you ask what a telehealth service's evaluation process includes before you commit to using those services.
During your vetting process, make sure your child will see an ADHD specialist and not a general provider. You can do that by asking questions, such as if the providers receive specialized ADHD training, how long they have provided care for patients with ADHD, and how many patients with ADHD they treat in a year. This will help ensure that you and your child will see an experienced ADHD professional who is able to also evaluate your child for coexisting conditions.
Continuing treatment with online providers
Telemental health services are also an option for continuing ADHD treatment, whether that includes medication, behavior therapy, or both. If your child has been prescribed medication through a telehealth provider, the prescriber should require regular visits to monitor your child's response to the medication, including both side effects and therapeutic effects, says Dr. Sibley.
Research the online service you are considering before becoming a client or patient, she says.
"All models are different, but in some cases, businesses may give out medication using the license of a doctor who never meets the patient," she cautions. Make sure that you and your child will be seeing the actual prescriber and that you are familiar with all the services they provide.
This is especially true if medication is recommended, says Dr. Wiznitzer. A telehealth visit should be just like an office visit, and the prescriber should periodically monitor your child's height, weight, and blood pressure. Ask the service provider whether they offer parent education if medication is prescribed, including how to properly give the medication to your child, he suggests.
Ask what type of therapy is recommended if it is suggested. Some telehealth services only offer talk therapy, which is ineffective in treating children and adolescents with ADHD.
"Proper therapy for childhood and adolescent ADHD will be delivered by a licensed therapist, like a psychologist, social worker, or mental health counselor," says Dr. Sibley. "It will almost always involve the parent (either along with the child or just the parent alone) and will focus on changing behaviors by using specific parenting strategies shown to be effective for ADHD."
Even though an online service may look promising and will help you skip a long wait time for an appointment, doing some of the same research you would for an in-person provider will help you find a comprehensive online service.
"Whether it is an online or a traditional service provider, parents should be sure to screen them for quality before they engage in them," advises Dr. Sibley.
Want to learn more about telehealth options for ADHD?
Join the conversation: Are you working with a telemental health provider?