You Can Manage ADHD and Anxiety During This Public Health Crisis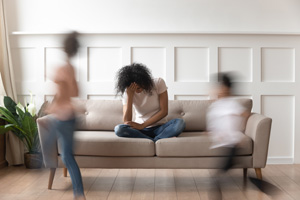 Many people with ADHD and co-occurring anxiety feel as though the symptoms of both conditions are increasing, as they cope with the COVID-19 crisis. Children in at least 35 states are now learning at home. Adults are working from home or may be dealing with furloughs or layoffs related to the pandemic. Concerned about work, school, finances, and staying home for long stretches of time, many feel overwhelmed.
"COVID-19 has changed our lives in ways we never would have imagined," says psychologist Dawn O'Malley. "It's not surprising that many of us are feeling more stressed and anxious these days."
Manage ADHD and anxiety together
Establishing routines can help families manage some of the anxiety they are experiencing, says Dr. O'Malley. Creating a new normal, even if it's only for the time being, can help adults and children make sense of the changes in daily life. Knowing what will come next in the day also relieves anxiety over the current situation for some people.
"Kids may be going to school online, for example, while parents work from home," she says.
Setting up a daily schedule that mirrors your former one as much as possible can help. Keep morning wake-up and evening bedtime the same, and try to have the school and work day start as close to their usual times as possible. Schedule regular times for meals and breaks and include physical exercise like going for a walk or playing in the yard.
It's also important to maintain treatment plans for ADHD for yourself or your child. While the family is at home together, ADHD symptom management should remain a priority. Managing ADHD symptoms can help to reduce co-occurring anxiety.
"During times of anxiety, these self-care activities become even more essential," says Dr. O'Malley.
Keep in mind this is temporary
While it may seem that your community will have stay-at-home orders indefinitely, this crisis is temporary. It will get better, and normal life will return when this is over.
"Although we don't know the specific timeline, the need for social distancing, closures, and the life changes we are currently experiencing aren't permanent," says child psychologist Susan Bartell. "Knowing this makes it much easier to cope."
In addition to creating a schedule, she encourages families to use technology to connect with each other and extended family. Limiting news exposure, such as watching just the evening news or reading a news site, can also help prevent overwhelm.
Talk with your doctor if you need help
In states that have stay-at-home orders, you can still go to the office of your healthcare provider. If you feel overwhelmed or experience anxiety symptoms that become increasingly uncomfortable, contact your healthcare provider and discuss whether you should be seen in their office.
An office visit might not be necessary, though. Under the recent federal declaration of a national public health emergency, many of the requirements for telehealth sessions have been relaxed. This may mean your healthcare professional can discuss your needs via telephone or video conference. Some therapists and mental health professionals are seeing patients via personal video conference. Call your provider's office to find out if this is possible for you.
Resources that can help:
Join the discussion: How are you reducing feelings of anxiety?