Staying In Touch With Video Chat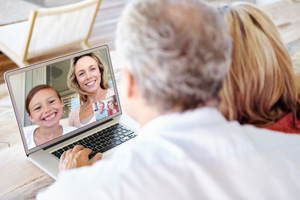 The current reality of social distancing has forced us to change how we connect with family and friends. To keep in touch, workplaces and families have adopted video conferencing programs, websites, and apps. A record 62 million video app downloads were made during just one week of March.
Families affected by ADHD thrive when they have support from extended family members, coaches, and educators. The new reality imposed by the COVID-19 health crisis has changed how they reach out for support and connection to others.
"Meet virtually with business groups, friends or family regularly," says Dawn O'Malley, PsyD, a psychologist who works with children and families. "Don't let physical distancing keep you away from your social support networks."
Using video chats and conferences to stay connected
Many cellphone and service providers now include video calls as part of their products. Apple products include the FaceTime app, and Android users can switch to video chat while making a phone call. Other apps, including Skype and Duo, can easily connect callers on cellphones. Amazon's Echo Show also offers video calling as a feature.
Computer versions of Skype and Zoom offer larger screens for visits and business meetings. They may be better for children because of the size the screen and stability of the device. When using any video conference platform, especially for children, be sure passwords are included for logging into the call.
Many ADHD coaches were already using video chats to work with their clients prior to the present crisis. The ADHD Coaches Organization states, "Many coaches offer free introductory sessions, and many coach virtually by phone or video."
During the current public health crisis, some federal requirements for telehealth services have been waived, allowing mental healthcare providers greater flexibility in providing treatment. While telehealth services have been required to use secured equipment, the waiver now allows the use of common, commercially provided teleconferencing services to allow ADHD patients to meet virtually with their healthcare providers.
Getting together virtually
"It's important to our health, well-being and stress levels that we don't confuse the necessary physical distancing with social isolation," says Sally Anne Carroll, a coach from Portland, Oregon. "We all need each other and maintaining our social connections as much as we can is a must to functioning well through this crisis."
Some ideas for virtual time together:
Meet a friend or family member for coffee. Some video conferencing services let you change the background on your call, allowing you to create your own virtual coffee shop. Or, use those background changes to let you chat on a virtual beach.
Keep a video call active while you go about your daily activities. Often called "body doubling," this can help someone with ADHD stay on task while letting you talk with one another naturally during the day.
Plan video conferences for your clubs and activities. A book club can meet to discuss this month's book, and a crafting group can video chat while working on individual projects.
Plan dinner dates and video chat while sharing meals long distance.
If you can stream your video to a television set, use video conferencing to set up virtual playdates for your children and their friends.
Making the call
A telephone call with friends or family members can be as effective at lifting spirits as a video call. It can help to have a friendly ear when you're dealing with both ADHD symptoms and the stress that can be caused by social distancing.
Staying connected while being apart
Social distancing has created a new normal, with limits on how physically close we can be and removing us from the people we see most often. We know this won't last; experts hope we can resume normal life later this spring.
Until then, using the technologies we have—video chats, teleconferences, and telephones—can make social distancing and stay-at-home orders easier to bear.
"While we can't replace the value of face-to-face interactions, we need to be flexible and think creatively in these circumstances," says Michelle H. Lim, a clinical psychologist. "Positive social support can improve our resilience for coping with stress. So, use the phone and if you can, and gather a group of people to stay in touch with."
Looking for ways to be connected?
Join the discussion: How are you using technology to keep with touch?