12 Behavioral Programs for Managing ADHD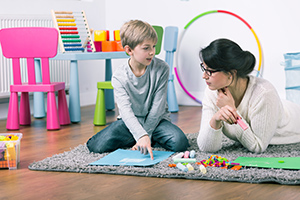 There is a growing emphasis on behavioral parent training an as intervention when their child has ADHD, especially for young children and families with a recent diagnosis. But what is parent training, and how should you choose a program?
Behavioral intervention is an important tool for managing ADHD symptoms, particularly for children. Behavioral modification training focuses on using positive reinforcement, structure, and consistent discipline to improve children's behavior. Parents and teachers learn skills to help guide children affected by ADHD, and to support children in their relationships and at school.
The American Academy of Pediatrics recommends behavior therapy as the first mode of treatment for young children, and parent training has the most evidence of being effective.
Let's explore what behavioral parent training is and look at some of the programs that have scientific studies to validate their effectiveness.
Behavioral Parent Training 
Behavioral parent training, often referred to as BPT, is perhaps the most studied psychosocial intervention, and is one of the three most evidence-based treatments for ADHD along with medication and school accommodations and interventions.
Anil Chacko and colleagues state in the chapter "Training Parents of Youth with ADHD," of Attention-Deficit Hyperactivity Disorder: A Handbook for Diagnosis and Treatment by Russell Barkley, PhD, that when BPT is used along with medication, it can boost the effectiveness of medication. Behavioral parent training is often necessary for learning more effective ways to cope with and manage the symptoms of a child's ADHD. There are typically high levels of stress associated with ADHD in children, which also affects their parents and families.
There are a variety of BPT programs and manuals; most share a common set of principles and methods. The most effective BPT programs consistently produce an increase in positive parent-child interactions and emotional communication skills, teach strategies to improve parenting consistency, and require parents to practice during the training sessions.
It is important to work with your child's healthcare provider to determine the best approach for your child. To have this conversation, it is helpful to learn more about evidence-based BPT programs.
Triple P

Positive Parenting Program

Triple P programs draw on research, social learning, cognitive behavioral therapy and developmental theory. The programs focus on teaching parents the skills they need to address and prevent behavioral and emotional problems in their children. It includes a range of interventions, with increasing intensity, depending on your child's age, and the ability to choose your own parenting goals based on your beliefs and values.

Started more than 30 years ago, the program now has more than 690 published papers and more than 240 clinical trials, studies, and evaluations. Triple P offers online and in-person options, and a guide to help you find the best program for you and your child. Learn more about Triple P programs for parents on the program website.

Teen Triple P
Based on the same research as the program for young children, Teen Triple P focuses on "tweens" and teens. Using the five principles found in all their programs, Teen Triple P helps parents learn to:

Create a safe, interesting environment
Have a positive learning environment
Use assertive discipline
Have realistic expectations
Take care of yourself as a parent

For more information, visit the Teen Triple P website to learn more about online or in-person training.

Incredible Years Parenting Program
Incredible Years is a set of three developmentally based curricula for parents, teachers, and children. Designed for children ages 2-12, it has been shown to improve behaviors for up to 80 percent of participating children.

The parent program emphasizes skills known to promote children's social skills and reduce behavioral problems, while building parents' interpersonal skills. With 14 programs designed for specific ages, parents, teachers, and children learn skills and strategies for helping children regulate their emotions, improve their social skills and academic performance. For more information, visit Incredible Years.

Parent-Child Interaction Therapy
Parent-Child Interaction Therapy (PCIT) is an in-person therapy that focuses on improving the quality of the parent-child relationship and changing parent-child interaction patterns to promote a healthy family relationship. Using evidence-based protocols, PCIT International certifies trainers to provide expert training and consultation in their protocol.

The program uses two treatment phases:

The first focuses on helping children feel calm and secure in their relationships, and feeling good about themselves.
The second focuses on building the parenting skills to manage challenging behaviors while remaining calm, confident and consistent in your approach to discipline.

Visit  PCIT for more information.

New Forest Parenting Programme
Developed in the United Kingdom by the Early Intervention Foundation (EIF), this program has been implemented in the United States and internationally. Developed for parents with a child affected by ADHD ages 3-11, New Forest Parenting Programme (NFPP) takes place in the family home during eight weekly visits, and teaches strategies for managing difficult behavior and attention challenges.

During sessions, parents learn about the nature of ADHD, how to manage their child's behavior through games that engage attention, encourage patience, and increase concentration. Practitioners observe parent-child interactions while playing together and provide feedback and guidance.

For more information:

STAR Parenting
The STAR curriculum helps parents of young children focus on responding rather than reacting, and is based on developmental and cognitive-behavioral theories and drawing from authoritative parenting. Experimental outcomes show a reduction in parent stress, anger and aggression, and a decrease in harsh verbal or corporal punishment.

STAR Parenting teaches a problem-solving process, and strategies and tools for providing child guidance for managing emotions, behavior and conflict. Visit the STAR website for more information, including online and in-person class options.

Strengthening Families Program
The Strengthening Families Program is a 14-session program designed to develop parenting, children's social and family life skills. Parents and children participate in sessions separately and together. Implemented in over 35 countries, SFP is culturally sensitive rather than culturally specific.

Outcomes include greater family strength and resilience, and reduced risk factors for problem behaviors. With curriculum for preschool, elementary age, early teens, and high school age children, SFP is widely used in homes, schools, churches, and community settings.

For more information, visit Strengthening Families Program.

Community Parent Education (COPE)
Community Parent Education, known as COPE, is focused on large group, school-based workshops that encourage groups of parents to work together to develop solutions for common problems. It was developed by Charles Cunningham, PhD.

COPE integrates techniques and principles from social learning, social and cognitive psychology, and family systems theory. It helps parents develop specific strategies to more successfully cope with their child's behavioral challenges, including self-regulation and social interactions. Studies have shown decreased child management problems, improved parent problem-solving skills, and better maintenance 6-months post intervention.

For more information, visit COPE.

Parent Management Training
Parent Management Training (PMT) is designed for children ages 2-17 and focused primarily on their parents, though children may participate in some sessions. Parents are taught skills to more effectively manage challenging behaviors through modeling and role-playing. Between sessions, parents practice at home with their children. Training programs typically include at least 10 sessions.

PMT has been shown to be effective in decreasing oppositional, aggressive and antisocial behavior, with strong post-intervention results. For more information, visit the Parent Management Training Institute.

Parental Friendship Coaching

 

and

 

Making Socially Accepting Inclusive Classrooms (MOSAIC Project)

A common symptom of ADHD is difficulty with social interactions and making friends. According to the Michael Smith Foundation for Health Research, more than half of children diagnosed with ADHD are severely disliked by their peers or do not have a single friend.

Amori Mikami, PhD, an associate professor in the Department of Psychology at the University of British Columbia, has developed programs to address the challenges children face in peer relationships. Her interventions focus on the factors that affect whether a peer group chooses to like or dislike a child, and strategies parents and teachers can use to help peer groups be more welcoming.

Parental Friendship Coaching focuses on training parents to improve the peer relationships of their children with ADHD. For guidelines for coaching your child, read How You Can Be a Friendship Coach for Your Child with ADHD in CHADD's Attention magazine by Dr. Mikami.

The MOSAIC Project focuses on helping children be more inclusive, socially accepting, patient and tolerant of classmates through altering the behaviors of the peer group and impacted children to improve peer relationships and academic functioning. First tested in a small, short-term pilot program, MOSAIC demonstrated improvement in children's peer relationships, and is now being tested in elementary schools (grades 1‑3) in the United States and Canada.

For more information about both programs and Dr. Mikami, visit the website for the University of British Columbia's Peer Relationships in Childhood Lab.

Systematic Training for Effective Parenting (STEP)
The STEP program was launched in 1976 and offers three programs focused on different age groups and a Spanish-language version for parents of children 6-12. Studies related to the program conducted from 1976 to 1999 indicate significant positive change in attitudes toward parenting, empathy toward children, family functioning and stress levels, and behavior.

Which program meets your family's needs?

Behavioral parenting training programs have been shown to be highly effective in helping parents and children manage symptoms of ADHD. When choosing a program for your child and family, focus on evidence-based programs to increase the effectiveness and impact of training, and match the program to best address your child's symptoms and needs.
For more information: