A New ADHD Diagnosis: The Next Steps
ADHD Weekly, September 2, 2021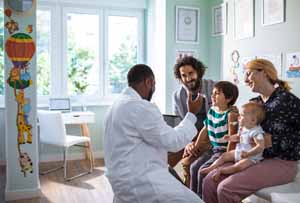 A new diagnosis can sometimes feel very sudden, even if you suspected your child might have ADHD for some time. You can be left wondering, now what? You might become overwhelmed by navigating healthcare, treatment options, or special education services for your child. There are many resources to support both you and your child, but it can be challenging to find them at first or put them into place. Where should you start?
First steps after diagnosis
An ADHD diagnosis should be accompanied by a report from your child's clinician with details of the of next set of steps, says Margaret Sibley, PhD. She is a psychiatrist and professor at the University of Washington School of Medicine and a member of CHADD's professional advisory board. Some of these next steps may include discussing medication management options with a pediatrician or an ADHD specialist, requesting an academic evaluation at your child's school to pursue school-based services, and connecting with parent support groups or parent training programs to learn strategies to help your child or teen manage their ADHD symptoms.
Learn everything you can about ADHD, as well as the recommended treatment options suggests Kristen Stuppy, MD, a pediatrician from Overland Park, Kansas. Dr. Stuppy works with families as the coordinator of CHADD's Kansas City, Missouri, support group. You'll be better able to advocate for your child if you're armed with knowledge about ADHD, she says. Learn about recommended treatment options: medication, behavior therapy, or both, and ask questions of your child's healthcare professional if you need more information.
Work closely with your child's healthcare provider to find the medication that best suits your child. Don't be surprised if the provider suggests frequent follow-up visits at the beginning of treatment, says Dr. Stuppy. Sometimes, when a child starts taking medication for ADHD, adjustments are necessary. Be sure to provide the clinician with as much information as you can about how your child is doing, and report improvements in symptoms as well as any possible side effects. The more information you can share, the better treatment the clinician can provide.
Parent training and behavioral management
"Parents can best help their child and teen by taking a parent training course designed for families of children with ADHD," says Dr. Sibley. If a training program isn't offered locally, she suggests asking the clinician for a referral to a behavior therapist who can teach you parenting strategies for ADHD in a one-on-one format.
Online parent training programs can also help with structuring your home and family life to be more ADHD-friendly as well as provide strategies to help with behavioral problems.
"If parents learn about ADHD and learn how to set proper expectations and reinforcements, that can be a huge help," says Dr. Stuppy.
Educational accommodations
Jot down the ways your child's ADHD systems affects them. When meeting with your child's teacher or education team, you can share this information as a starting point for discussing school accommodations. Learn about the special education process to receive a 504 plan or an individual educational plan (IEP) so you can be better able to advocate for your child. Work closely with your child's teacher or education team to create appropriate accommodations that meet your child's needs.
Some parents send a letter to their child's teacher each school year to introduce their child. They include a listing of accommodations that have worked well for their child in school. Armed with this information, your child's teacher can then plan and structure instruction to best support your child. However, don't expect instant results, says Dr. Sibley.
"Follow the recommendations of your care team—even if you don't see immediate results with school or home interventions, keep doing them anyway," she says. "Sometimes it's the small consistent efforts taken over many years that pay off most for families of youth with ADHD."
Support for parents
Parenting a child with ADHD can be difficult, and still be rewarding. Sometimes parents are so busy caring for their child that they forget to find support for themselves. If you are struggling, reach out to a therapist who understands ADHD. There are also in-person and online support groups that many parents of children with ADHD find helpful. There is no one-size-fits-all approach when it comes to supporting your child.
"Don't give up! There's not a 'best' overall treatment, so finding the right one for your child might take time, but work closely with your child's doctor to find the best treatment," says Dr. Stuppy.
Looking for more tips to help support your child with ADHD?
Join the discussion: What did you do after an ADHD diagnosis in your family?