Podcasts: Preventing Suicide
ADHD Weekly, September 2, 2021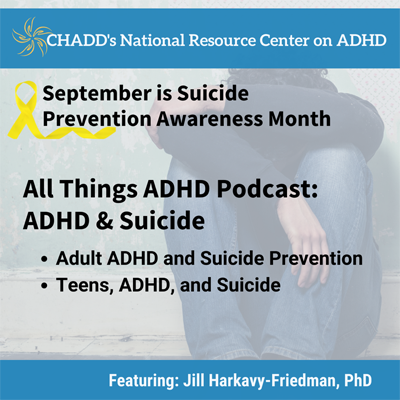 All Things ADHD:
ADHD and
Preventing Suicide
Featuring
Jill Harkavy-Friedman, PhD
Adult ADHD
and Suicide Prevention

The death of someone you love is often met with sadness. But the heartache felt by family members and friends can become more confusing and unnerving when the cause of death is suicide. Researchers say adults with ADHD have a high prevalence of attempted suicide. But is there a direct link between ADHD and suicide? What other risk factors are involved? Dr. Jill Harkavy-Friedman shares insight and understanding of risk factors and other conditions that often coexist with ADHD, increasing suicidal thoughts and attempts. She also discusses warning signals, preventive measures, and the approach to take if faced with someone expressing suicidal ideation.
Teens, ADHD, and Suicide: For Parents

Children and teenagers are more exposed than ever due to social media. They share what they are doing in real-time. As a result, experts say kids are growing up with more anxiety and less self-esteem. For parents, knowing what their child or teen is thinking and feeling becomes even more challenging. So, when do the usual ups and downs of a child with ADHD become something to worry over? What if your teen is thinking about suicide? Do you know the warning signs? In this episode, Dr. Jill Harkavy-Friedman talks about the warning signs for parents to watch for in their children. Also, she provides strategies for talking to your child and teen about suicide, building a support network, and preventive measures.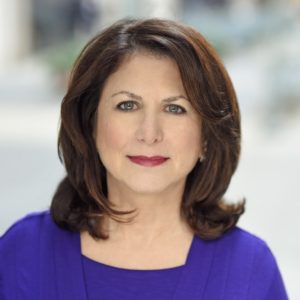 Jill Harkavy-Friedman, PhD, is vice president of research at the American Foundation for Suicide Prevention. She works with over 200 scientific advisors to evaluate progress in the field and chart the next areas of inquiry to yield impactful insights and strategies for suicide prevention. Dr. Harkavy-Friedman has published over 100 articles. She works closely with AFSP's education, communication, and public policy and advocacy teams to develop programs and messages to ensure they follow best practices in suicide prevention and reflect the latest findings in research. She earned her bachelor's degree in psychology at the University of Pennsylvania and her master's degree and doctorate in clinical psychology at the University of Florida. In 1984, she joined Montefiore Medical Center/Albert Einstein College of Medicine as an assistant professor. She established the Adolescent Depression and Suicide Program. In 1989, Dr. Harkavy-Friedman moved to Columbia University/New York State Psychiatric Institute, first as an assistant professor and later as an associate professor of clinical psychology in psychiatry. As a licensed psychologist, she maintains a clinical practice in Manhattan.