Apps for Smoother Mornings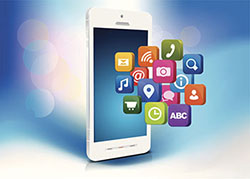 Are mornings the most difficult time of day for your children? You're not alone. Many parents of children and teens affected by ADHD find the whole morning routine can cause stress for everyone involved. You might wonder why mornings are such a troubled time and what you can do to help make them go more smoothly.
Morning tasks require executive functions such as attentional control, inhibitory control, working memory, cognitive flexibility, reasoning, problem-solving, and planning. In the recent CHADD webcast How to Survive Mornings with ADHD, Michele Novotni, PhD, explains that tasks managed by the brain's executive functions are difficult for people with ADHD, and in the mornings there are lot of these tasks. The apps we reviewed below have free trial versions; there may be costs for the full version. Always test out a new app to see if you find it to be useful before making a purchase.
"If you look at the different things you have to do in the morning it requires a lot of self-regulatory behavior, a lot of decision-making, a lot of time management, and a lot of organization," Dr. Novotni says.
There is an app for that! Everything from getting your children out of bed, dressed, following directions, and staying organized so they can make it out the door with everything they need—there are smart phone apps that can help.
Apps can support the tasks you have to accomplish in the morning. Since many morning activities are affected by ADHD symptoms, technology can be a great tool to remind, organize, and keep your child on track. Here are five apps to try with your child or teen to help manage executive functioning difficulties better:
Bonus App: Cozi 
Cozi is an organizer for families. It helps coordinate the schedules of everyone in your family, giving you a color-coded calendar. It sets reminders and sends emails based on the calendar's activities. You can also use it to create a to-do list for each person in your family and, by adding due dates, it synchronizes with your calendar.  It includes a place to store recipes and plan meals. You can easily transfer recipe ingredients to a shopping list. It brings all the features together in the daily agenda where you can see a list of upcoming events, your current to-dos, and the shopping list based on your planned meals. Available for Apple, Android and Windows phones, and web browsers.
For more great tips on helping your children manage mornings with ADHD, you can watch the entire webinar How to Survive Mornings with ADHD for free now.