Self-Advocacy Can Improve Your Life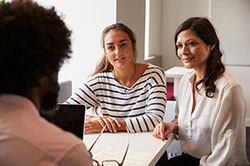 Although advocating for yourself or your child may often seem a bit intimidating, the reward can be an improved situation at work and/or school. ADHD is often misunderstood by the people around you, including family members, teachers, and co-workers. These are people who are important to supporting and enabling your family's well-being; educating them about the disorder and asking for what you or your child needs to be successful is an important step toward improving your lives.
Self-advocacy and ADHD: Getting what you need
Wrightslaw, which provides resources on special education law, defines self-advocacy as:
learning how to speak up for yourself,
making your own decisions about your own life,
learning how to get information so that you can understand things that are of interest to you,
finding out who will support you in your journey,
knowing your rights and responsibilities,
problem-solving,
listening and learning,
reaching out to others when you need help and friendship, and
learning about self-determination.
Practicing self-advocacy enables you to participate in the decisions that affect your life and receive what you need to be successful. Self-advocacy is speaking up and requesting what you want and need with the expectation that these requests will be met.
Some people can be reluctant to speak up and make their needs known. For many people affected by ADHD, this can be part of co-occurring anxiety. For others, asking for what they want may seem too demanding.
Advocate for yourself
Self-advocacy takes practice. It is a new habit to be learned. You may want to work with an ADHD professional, such as a therapist, counselor, or coach, who can help you explore the areas of your life where you want to practice self-advocacy. The professional can help you make a plan to ask for what you want and help you roleplay the experience.
Some resources that can help you become effective at self-advocacy:
Explore the Job Accommodations Network. This organization provides free, expert, confidential guidance on workplace accommodations for people affected by ADHD and other disabilities. The staff can let you know what your rights in the workplace are and help you to have a conversation with your employer to receive reasonable accommodations.
The Ask the Expert: ADHD in the Workplace webinar features Melanie Whetzel of the Job Accommodation Network discussing what the organization does and how you can advocate for yourself at work.
Join a CHADD affiliate group. By joining a local CHADD affiliate, you can meet other people affected by ADHD, share local resources, and get and give support.
Learn more about ADHD. Spend some time reading about ADHD and the medical science about how it affects you and your family. Be prepared to answer some of the basic questions about ADHD, such as "Doesn't it only affect children?" and "Why didn't we hear about ADHD before the 1980s?" By having answers ready, you can help others learn about ADHD and dispel some of the misunderstandings about the disorder. Check out our Youtube channel, https://www.youtube.com/user/HelpForADHD, for videos on ADHD.
Identify your goals. Decide on what you want. Do you need accommodations at work? Would you like your family to stop dismissing your diagnosis? Do you need your partner to take more responsibility at home? You might want to work with a professional who can help you clarify what you want and the best way to ask for what you need. You can learn more about finding a professional to help identify your goals on CHADD's website under the heading Support.
Advocate for your child
You are your child's best advocate. Every parent wants to make sure her child has what he needs to be successful in school and in life. You can request what your child needs:
From ADHD care providers: Keep records of your child's diagnosis and treatment plan. When you learn something new that you think could be helpful, bring it to the attention of your child's ADHD specialist. If you think your child's treatment plan should be updated, tell the professional and give examples of your child's needs. If you don't agree with something the specialist has said, tell the specialist right away. And most importantly, if you think a medication is not working effectively or your child is having problems with side effects, make an appointment right away to discuss your concerns.
From educators: Do you think your child would benefit from academic accommodations? Most children affected by ADHD will need some support at school. You can begin the academic evaluation process by sending a letter to your child's teacher and school principal. Don't wait until you see falling grades or behavioral problems. Meet with your child's teachers and let them know what your child needs to be successful in school. If your child doesn't already have an IEP or 504 Plan, be prepared to request an evaluation that may lead to one.
If you run into difficulties having your child's needs met, you might benefit from working with an educational advocate. The Center for Parent Information and Resources has six regional Parent Technical Assistant Centers that provide resources for local parent centers. They can assist you in working with your child's school and may be able to make an advocate available to go with you to meet with your child's educators.
From family and friends: It can be difficult to speak up when it is your family or friends who say something inaccurate about ADHD or your child's abilities. Working with a trusted friend or a professional, you can roleplay simple responses so that you're ready if a family member says something inaccurate about your child's ADHD diagnosis. Responses might include, "Actually, modern research into ADHD started during the 1920s," or "Her doctor and I discussed treatment, and we believe this is a good plan. If you are interested in how ADHD is treated, I can send you information. Otherwise, I think it's time to talk about something else."
What you can do now
Are you ready to ask for what you and your child need? Here's how:
Define what you want and need, for yourself or your child.
Know your rights. Learn about laws that provide accommodations at work or school.
Find professionals who can provide you with resources. Check out the CHADD Resource Directory for a listing of ADHD professionals.
Join CHADD or another local support organization.
Practice with a friend or professional how you plan to ask for what you or your child needs.
What are some additional ways of self-advocacy that you have found to be successful for you or your family?