Be Ready for Disaster: Lessons from Louisiana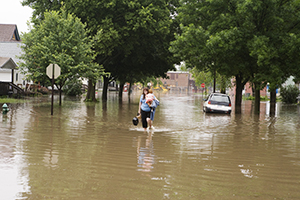 The water rose quickly near Belynda Gauthier's home.
"We had about an hour to gather some belongings, catch the cat, and evacuate before our house got five feet of nasty water," Ms. Gauthier recounts. "We live in an area that had never flooded in over 500 years of recorded history. We did not anticipate this at all."
Ms. Gauthier lives in Baton Rouge, Louisiana. Since 1990 she has served as the affiliate coordinator for Louisiana Capital Area CHADD and is a member of CHADD's National Board of Directors. Having a son with ADHD and co-occurring conditions and having worked with other families affected by ADHD, Ms. Gauthier knows the importance of planning and preparation when it comes to emergencies for families affected by ADHD.
This past August, though, days of torrential rainfall caused catastrophic flooding in Louisiana. About 6.9 trillion gallons of rain pummeled Louisiana from Aug. 8 to Aug. 14, according to CNN, enough to fill more than 10.4 million Olympic-size swimming pools. An estimated 146,000 homes were damaged, and more than 20,000 people had to be rescued during the flooding that followed.
Ms. Gauthier's family home was among those damaged during the recent flooding. The images of destroyed homes and communities from flooding in Louisiana, as well as in Maryland and Kentucky, remind us that disasters can strike at any time. Planning ahead can help you literally weather the storm. If you or your loved ones have ADHD, having plans and supplies already set in place is even more critical.
Coping with Disaster: Strategies for Individuals and Families with ADHD offered readers of Attention magazine tips to help prepare for disaster:
Pay attention to and obey local warnings, watches, and evacuation orders. Pick one reliable news source and check it often.
Establish and practice, with all family members including your children, an escape route from your house. It's important for children to know that in an emergency, the family must act quickly and together. Children with ADHD need to understand this in advance, to minimize opposition or defiance at times of crisis.
Equip your house with fire extinguishers, flashlights, and smoke detectors, at a minimum. Replace batteries when you change your clocks and have fire extinguishers checked yearly.
Pack a "grab and go" bag with basic provisions including medications for you and your family members and pets, water, small toiletries, high energy foods, cash, a change of clothing for each member of the family, and a lightweight flashlight. Remember to have a pet carrier with food and water ready for your pet.
Organize essential documents, including copies of emergency contact information, driver's license or other photo identification, passports, credit cards, financial account information, insurance, and social security cards. If you have a pet, make sure current copies of health records and vaccinations are included.
Prepare to hunker down in the event of an emergency by stocking enough supplies to last at least 72 hours.
Fill out and carry a Family Communications Plan.
Check out Ready.gov for more information on emergency planning and preparedness.
"Disasters can happen anywhere," Ms. Gauthier says. "Have a plan. Pay particular attention to medical needs and include plans to grab medication, medical records and equipment, and so on. Have your family photos and mementos 'grab and go' ready. Purchase a firebox and store important documents in it, including Social Security cards, insurance paperwork, etc., and make sure it is also ready to grab and go. And don't forget to grab your bills and checkbook! Include in your plan provisions for any pets. And if you have a family member with ADHD or other special needs, do everything you can to normalize life after the disaster."
Ms. Gauthier has a strong network of support from her family and friends who were ready to help when disaster struck. Having in mind where to go and to whom you can turn in an emergency is an equally important part of emergency planning.
"I have been so very grateful for the support of friends, particularly CHADD friends from around the country," she says. "They have sent emotional support, gifts, notes, and prayers. Social media has actually been a blessing since it has kept me in touch with friends and family. I must say, I have been particularly proud of my son, who has ADHD and other challenges. Although he lost nearly all of his gaming equipment and numerous keepsakes, he has been much more resilient than I would have thought possible, going out of his way to comfort me!"
Being prepared is important, Ms. Gauthier says, because emergencies will happen at some point during everyone's life.
"Disaster can happen to anyone," she says. "You will experience loss. You will not be able to save everything. You will need to grieve. You will spend as much time comforting others who want to help but don't know how, as you will spend doing your own grieving. It may just be 'stuff,' but it's your stuff."
Her local CHADD affiliate is beginning to recover as well.
"My local group lost all of our materials, including over 1,000 items in our Lending Library," Ms. Gauthier says. "We cancelled our annual back-to-school meeting, but hope to resume meetings soon to support other local families struggling to recover."
During the flooding and its aftermath, Ms. Gauthier says she has found strength from her experience as an affiliate leader and as someone who is used to reaching out to others dealing with hardships.
"The most difficult thing for me to learn has been how to let other people help," she says. "I have been a volunteer for 27 years. It hasn't been easy to be on the other side of that equation. I am working on that."
Get more tips and strategies to plan for and cope with disaster, at Emergency Preparedness and You.