Boost Self-Esteem with Community Service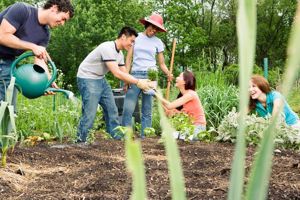 Children with ADHD may have low self-esteem from frequent correction, punishment, or teasing. Research shows children who experience low self-esteem in adolescence are more likely to experience poor health, criminal behavior, and less economic prosperity in adulthood.
Taking part in community service projects can help children affected by ADHD expand their focus outward, providing them with opportunities to discover and use their strengths, thereby boosting their self-esteem.
Building self-esteem through service to others
Community service can help your child develop a sense of accomplishment by directly helping other people through his personal efforts; he gets to see the real results of his hard work immediately. This sense of accomplishment can build resiliency and strength in your child, what Robert B. Brooks, PhD, calls "islands of competence," from which your child can develop healthy self-esteem. Many children affected by ADHD have a low sense of self-worth, feel life is unfair for them, and struggle when there are setbacks. By volunteering, he gains validation of his worth and learns that even if there is a setback in one area of life, it is not his whole life. He has experienced tangible success while volunteering, as a result of his unique strengths.
"Adolescents who become involved in volunteer activities have higher educational plans and aspirations, higher grade point averages, higher academic self-esteem, and a higher intrinsic motivation toward school work," than teens who don't volunteer, write Monica Kirkpatrick Johnson, PhD, and colleagues in a study for the Journal of Research on Adolescence.
Some suggestions to help your child's volunteering experience be a positive one:
Find volunteer opportunities that appeal to your child's interest. If he likes animals, consider volunteering at an animal shelter. If he likes being outdoors, your child could help during cleanups at community parks.
Look for community service projects with a lot of physical activity. Volunteering is a great way to get your child to channel excess energy.
Search for opportunities that play to your child's strengths—his islands of competence. If your older teen likes to work with his hands, consider building houses for your local Habitat for Humanity, working on other community building projects, or preparing meals at a homeless shelter.
Get the whole family involved in a volunteer effort. Not only does volunteering as a family help you grow closer, but it also shows your children the value you place on community service.
Consider enrolling your child in a scouting program. Scouting programs emphasize community service and take into consideration children with special needs when designing their programs.
Long-term impact
Evidence shows that community service can do more than build self-esteem for your child affected by ADHD. It may also have some long-term health benefits.
"This research has established a strong relationship between volunteering and health: those who volunteer have lower mortality rates, greater functional ability, and lower rates of depression later in life than those who do not volunteer," according to Health Benefits of Volunteering by the Corporation for National and Community Service.
A recent study of older adults in the British Medical Journal examined the association between volunteering and mental well-being across the lifespan. Researchers found people who volunteer regularly appear to experience higher levels of mental well-being than those who never volunteer. Another study published in the journal Social Science and Medicine found people who volunteer report better health and greater happiness than people who do not.
Community service as a graduation requirement
In the past decade, many school districts have added community service as a graduation requirement. Getting your child into the habit of volunteering at a young age can make it easier to fulfill these requirements. You may live in one of the 23 states that allow or require school districts to award credit toward graduation for volunteering, also known as service learning. Maryland is the only state with a statewide high school graduation requirement of 75 hours community service hours, which students can earn beginning the summer after fifth grade. Washington, DC, schools require 100 hours of community service before graduation. Check with your child's school district for local graduation requirements.
For teens affected by ADHD, whose grades may not distinguish them from their peers, volunteer service may make them more attractive to college recruiters. DoSomething.org, which describes itself as a movement to motivate young people to make a difference in their communities, conducted a survey on volunteerism when it comes to the college admissions process (Community Service and College Admissions Study: WHY IT MATTERS).
"While grades and test scores remain the most important factors in the process, it is clear that passion and commitment to something bigger plays a key role in college admissions decisions," DoSomething.org concluded from the results. "Taking the lead to bring about change in a community will help set a student apart from his or her peers, and communicating depth in that experience is also a determining factor for admissions officers."
Finding opportunities for community service
Ready to check out community service opportunities with your child?
Take a look at the United Way listing of community service and volunteer opportunities near you.
Ask the school guidance office for a listing of opportunities that can be applied towards school credit.
Contact your local community kitchen for ways to participate.
Search online for community service organizations or clubs in your community.
Call your house of worship for ongoing service projects.
Join clubs that promote community service.
Read the local newspaper for events in your community that need volunteer support.
Ask the docent at your favorite museum or the park ranger at your local state park for ways you and your child could get involved.
Do you or your child volunteer in your community? How has the experience helped your child affected by ADHD?
This article appeared in ADHD Weekly on March 9, 2017.