CHADD Young Scientists: Where Are They Now? Part Two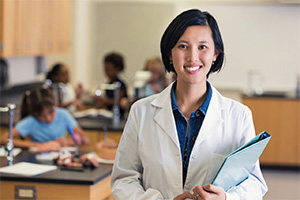 During the past eight years, 19 researchers have received CHADD's Young Scientist Research Award during its annual international conference on ADHD. Last week we shared the stories of our first group. We are pleased to share the stories of an additional group of recipients.
CHADD recognizes new researchers in ADHD fields who are making contributions that further our understanding of ADHD with its Young Scientist Research Award. Many of the recipients said they felt CHADD's prestige and the award helped further their careers in ADHD research.
Kathryn Humphreys, PhD, 2013 Recipient. Dr. Humphreys is currently a postdoctoral fellow in the department of psychology at Stanford University, working in the Stanford Mood and Anxiety Disorders Lab under the mentorship of Dr. Ian H. Gotlib. She has been researching the role of the environment in the onset and course of ADHD. She is investigating the impact of severe neglect in early life on ADHD in adolescence, and childhood physical and sexual abuse in predicting ADHD symptoms in college students. Dr. Humphreys is also researching the association between ADHD symptoms and peer relationships.
"The CHADD Young Scientist Award was the first grant that provided support specifically for my research ideas," Dr. Humphreys says. "As a scientist, it is motivating to feel like your work is contributing to society. Winning external funding to do the research you want to do is a major source of support, financially, but also psychologically."
Michael Kofler, PhD, 2012 Recipient. Dr. Kofler is an assistant professor in the Florida State University and has published more than 30 scientific articles and book chapters on topics related to childhood ADHD. He is a licensed clinical psychologist in Florida and Virginia, and is on the editorial board of the Journal of Abnormal Child Psychology. Dr. Kofler and his colleagues are developing a new, computerized treatment for ADHD called Central Executive Training.
"We are currently in the beta testing phase, working with children with ADHD and their caregivers to fix software bugs and make the system more engaging and ADHD-centric. The project is funded by the National Institutes of Health, and we will begin a small, randomized controlled trial later this year," Dr. Kofler says. "Our work looks at ADHD through a positive youth development framework. We think that children with ADHD are more than just a list of symptoms and deficits, and our work seeks to identify strengths and build capabilities in children with ADHD.
"Being recognized by the nation's largest ADHD advocacy group has been immensely helpful for my career," Dr. Kofler says. "The CHADD Young Scientist Award is a great endorsement of the work we are doing. We feature the award prominently in our clinic's website and recruitment flyers. Families of children with ADHD know and trust CHADD."
His recommendations for up-and-coming researchers: "Think critically about measurement and differential diagnosis, and focus on understanding the syndrome before rushing into treatment development. Advancements in our understanding of ADHD have been hindered by commercially available tests that don't measure what they claim to measure, particularly when it comes to the study of executive functions. Developing better treatments for ADHD is going to require us to go back to the drawing board, develop better measures, do comprehensive evaluations to ensure our 'ADHD Group' actually contains children with ADHD, and really dig deep to understand both the strengths and weaknesses associated with ADHD.
Joshua M. Langberg, PhD, 2008 Recipient. Dr. Langberg is a licensed clinical psychologist and an associate professor at the Virginia Commonwealth University Department of Psychology. He focuses on developing interventions for individuals with ADHD that can be implemented in school and community settings using typically available resources and expertise. He is currently running three grant-funded randomized controlled trials, evaluating interventions for middle school, high school, and college students with ADHD.
The intervention for middle school students focuses on teaching organization, time-management, and planning skills, and is implemented by school counselors in the school setting. The intervention for high school students is an eight-week group program for parents and adolescents implemented in school settings where the team has incorporated substance use prevention skills into the curriculum. The intervention for college students is also a group-based intervention and includes a mentoring component.
"The intervention is cognitive-behavioral because we have found that a majority of college students with ADHD struggle with comorbid anxiety and depression," Dr. Langberg says. "The goal of all of this work is to develop interventions that can be widely disseminated and implemented."
His suggestions to newly minted researchers: "Don't get too caught up in the research literature. Innovative and important ideas often come from interacting with members of your local community and through providing clinical services or teaching and supervising students who are providing clinical services. Remember that the end goal is to improve the lives of children, families, and adults with ADHD in the community."
Amori Yee Mikami, PhD, 2006 Recipient. Dr. Mikami is an associate professor of Psychology at University of British Columbia, where her research focuses on peer relationships among children and adolescents. She's been researching ways parents and teachers can help children with ADHD to get along better with their peers and to have positive, lasting friendships.
She's currently in the middle of a study of the Parental Friendship Coaching intervention, which trains parents to be "friendship coaches" for their children with ADHD. She and her colleagues are also testing the Making Socially Accepting Inclusive Classrooms intervention, a program that works with teachers to help create a classroom environment where peers are more inclusive and supportive of children with ADHD.
"Being given the Young Scientist Research Award from CHADD was an amazing honor for several reasons," Dr. Mikami says. "I respect CHADD so much because this organization not only does incredible work promoting the science of ADHD, but also retains a strong focus on interventions, applied research, and advocacy. As such, I think the mission of CHADD matches well with what I aspire to achieve in my academic career. To be recognized by such an organization was tremendous."
Read more about our Young Scientist Award and Recipients.