Could a Body Double Help You Increase Your Productivity?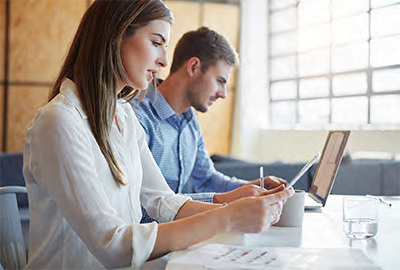 If you struggle with procrastination, you are not alone. Many adults with ADHD have trouble staying focused long enough to complete boring or repetitive tasks. Others experience difficulties with getting started on tasks, managing time, and staying organized.
Body doubling is a tool some adults use to help them start and complete projects. Sometimes referred to as an accountability partner, it is a technique for better productivity. A body double is a friend or partner who works simultaneously, either in the same room or virtually through videochat platforms. Having another person in the same physical or virtual room can help you with productivity because you have someone present to check in with and keep you accountable. Body doubling is a support activity for ADHD that can be easy to do and cost-free.
"I don't know why it helps, but having another person involved in the process makes it so much more achievable," writes one adult with ADHD on a popular social media site. "If I have a friend who will just sit in the room I'm working in, they don't have to help me though it's great if they do, is a make-it or break-it for me."
Some people who started working from home during the pandemic found it much harder to stay focused and on-task without their coworkers nearby. As a result, they turned to body doubling to keep them on track during the workday. Some college students with ADHD also used body doubling to help them stay on track with class assignments.
"One thing I found really helped when having to do essays for university was getting my friends around with the same deadlines, so we're all working on it together," one college student reported on social media. "I found I could focus more with them there working, also."
How does it work?
While there hasn't been significant research to validate the benefits or the dynamics of how it works, there is speculation on why body doubling may work for some people with ADHD. Focusmate, an online community that pairs members with a body double, states that body doubling works by using five behavioral triggers: task implementation, social pressure, accountability, specific task direction, and activating certain neurotransmitters through behavior. Body doubling can be helpful for those with ADHD because it forces them to choose a specific project, set aside a specific time to do the work, and be accountable to another person.
Roxanne Fouché, an ADHD coach, agrees that body doubling can benefit someone who has ADHD. Ms. Fouché serves as chair of the ADHD Awareness Month Coalition, of which CHADD is a member. She is also the coordinator of San Diego County CHADD and a member of the ADHD Coaches Organization board of directors.
"My ADHD coaching clients find that [body doubling] greatly helps their productivity," she says, "as it supports them in setting priorities, breaking down a chosen project/goal into what can be accomplished in 50 minutes, committing to a particular task or tasks, and then having needed accountability for working on—and realizing—their goals."
Some online communities like Focusmate are free to join and also offer expanded paid membership options. With an in-person or online body double, you aren't limited in the things you can work on, and you can determine how it can best work for you. You can decide what you need to accomplish and whether working alongside someone for a short or long period of time is best for you and your doubling partner. Some adults choose to use a body double to hold them accountable to do their dishes or laundry; others to do homework, pay bills, or file their taxes.
Coworking or socializing? Taking care to stay on task
Body doubling to get work done doesn't work for everyone. If your body double is a friend, you might end up socializing instead of getting work done, making it more a distraction than a productivity builder. Or, the time needed for check-ins that wouldn't be required had you been on your own take up too much time.
For Greg Riccardi, who has ADHD, the positives of body doubling outweigh any potential negatives. He found himself in a procrastination spiral, but credits his body double with helping him accomplish tasks he had put off for too long. Riccardi checked in with his body double a couple of times each day, which was all he needed to stay on task.
"The results have been nothing short of incredible," he says. "In just the first week, I accomplished two tasks concerning my taxes, and they had been on my to-do list for six months."
Learn more about body doubling for ADHD:
Join the conversation: Does working with a body double or a companion nearby help you stay on task?