Educational Rights: Public vs. Private Schools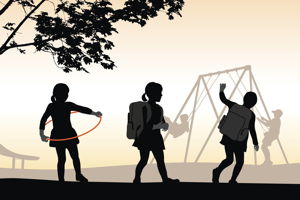 Are you beginning to see declining grades, increased school-related anxiety, or behavioral issues from your child? It may be time to talk with your child's teacher about a more formal academic accommodations plan for your child affected by ADHD.
Parent as advocate 
As your child's parent, you are her best educational advocate, says Robert M. Tudisco, Esq, a former CHADD Board of Directors member. Writing in The Four ATEs of Effective Student Advocacy for CHADD's Attention magazine, Mr. Tudisco reminds parents that they need to communicate effectively with emotion, but not become overcome by the emotion.
"There is a very big difference between being effectively assertive and being argumentative," he says. "Do not be confrontational, but do let the school know what you want for your child and why your child needs it."
Public schools
Educational rights for students in public schools (including public charter schools) are established by federal law and supported by individual states' laws. Students affected by ADHD and co-occurring learning disabilities or other conditions are included in the Individual with Disabilities Education Act, or IDEA, which can be used to create an Individualized Education Plan, or IEP, for your child. If your child doesn't qualify under IDEA she might be eligible under Section 504 of civil rights law and the Americans with Disabilities ActAmendments Act.
You can learn more about these laws and how to make a request for an academic evaluation at Requesting an Evaluation in Public Schools. Most recently, the Office of Civil Rights issued new guidance clarifying and emphasizing students' and parents' rights in its Dear Colleague Letter on Obligations to Students With ADHD, along with a Parent and Educator Resource Guide to Section 504 that will help you understand how to advocate for your child. These documents make it clear that schools must identify and conduct an evaluation of any student who may need special education or related services because of a disability, whether or not the student has received a diagnosis of disability. Concern regarding the potential need for services may be raised by either parents or teachers, and if the school denies a parents' request for an evaluation, the school must inform the parents of their procedural rights included in Section 504 regulations.
"Being an effective advocate for your child does not necessarily mean arguing," Mr. Tudisco says. "It means protecting your child's rights and advancing your position, by the most effective means possible. Don't lose sight of your objective by getting caught up in the fight. Effective advocacy is about results."
Private schools
For a student enrolled in a private school, the situation is different, says Susan H. Biggs, EdD, the director of Learning Center Director at Flint Hill School in Northern Virginia. For students enrolled in private schools, educational rights might be established by individual state laws or by those private schools themselves, but federal educational laws do not necessarily apply.
Many private schools will voluntarily follow a similar framework as public schools for academic accommodations, but most will have a process for academic accommodation that is specific only to that school's program. It's important to discuss with the school principal or administrator what that process is and to receive that information in writing. Depending on the amount of federal funding the school receives, if any, the school may be required to follow portions of Section 504. If your child's school does receive federal funding, ask the school administrator about the school's requirements for Section 504 compliance.
Dr. Biggs discusses students' right in private schools in Supporting Students with ADHD in Independent and Private Schools for CHADD's Attention magazine.
"Private schools are not required to follow the special education regulations of IDEA," Dr. Biggs says. Section 504 and the ADA, she says, "require the schools to make minor or reasonable adjustments to their program. Most private schools are willing to provide some classroom accommodations (such as extended time for tests), but they are not required to do more."
In some private schools, this can be a benefit for the student, she says, when it come to academic accommodations. It's important to keep in mind this isn't always the case, she says.
"For these private schools, this permits tremendous latitude to decide which students could benefit from support and to determine how best to provide that help within their culture," Dr. Biggs says. "There can be disadvantages for families who would like to require their child's school to provide accommodations, in that the school may legally refuse to do so."
What are your child's educational rights?
It's important to know your child's educational rights, Mr. Tudisco says. In some situations it may be necessary to work with an educational advocate or a legal advocate to be sure your child's educational needs are being met under the law.
"Educate yourself about your child's rights under the law," he says. "Federal, as well as state laws and regulations, set parameters for what the school district must provide to your child. Learn what these are. Learn about the special education process."
| Educational Rights in Public Schools | Educational Rights in Private Schools |
| --- | --- |
| Established by Federal and State Laws. | Are exempt from most Federal and State Laws. |
| IDEA, establishing Individual Education Plans. | Not required to follow IDEA. |
| Section 504 of civil rights law and included in ADA, establishing 504 Plans. | Required to meet some of Section 504, but not all of it, if the school receives some federal funding. |
| Academic evaluations take place when requested by parents, or if the educators recognize the need for possible accommodations.Based on the results of the evaluation, an academic plan is created. | May be able to request an evaluation by the public school district. The public school will consult with the child's private school before deciding to proceed. |
| Learn new skills and strategies to help the child improve behavior. | Goal-center approach to parenting that can include practicing new skills. |
| Some schools will have school-based accommodations plans that do not have the formality of an IEP or 504 Plan. | Some schools will have school-based accommodations plans that do not have the formality of an IEP or 504 Plan. |
| Parents learn by watching live or recorded parenting situations and discussing with the therapist the parenting skill modeled. | Define parenting goals and help parents to develop a strategy to reach those goals, |
| Must educate your child until graduation or age 21. | Are not required to educate every student; some students with severe academic or behavior difficulties will be dismissed. |
| Must meet the minimum services established by law. Some school districts will exceed the minimums. | Not obligated to meet the minimums of education law. However, some schools are tailored for students with ADHD/LD and will voluntarily exceed the minimums required of public schools. |
Finding an advocate
It may become necessary to find an academic advocate or legal assistance when working with your child's school. An advocate can prepare you to meet with the school's education team to create or modify an academic plan for your child. Advocates frequently attend IEP or 504 Plan meetings with parents.
A legal advocate will be necessary if you need to follow the appeals process and have reached the point where a due process hearing or other legal action is needed.
Resources to find an advocate:
Regardless of public or private school, working closely with your child's teachers and school administration often helps to create the best academic plan to address your child's needs.
What has your experience been in a public or private school when it came to advocating for your child?