Five You and Your Children Will Like: Fun Apps for Kids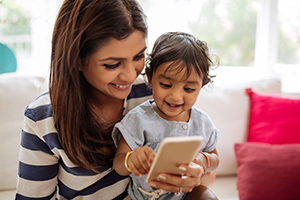 How much screen time should your child have during the day? Children and teens are spending around seven hours a day either before a TV or computer screen, or with a smart phone or tablet in their hands. That's a lot of screen time!
Although too much screen time can be detrimental, "Educational apps and TV shows are great ways for children to sharpen their developing brains and hone their communication skills," says Liraz Margalit, PhD, in What Screen Time Can Really Do to Kids' Brains for Psychology Today. "But tread carefully: A number of troubling studies connect delayed cognitive development in kids with extended exposure to electronic media."
Guidance from Experts
The American Academy of Pediatrics offers doctors and parents guidance on how to best use screen time, while keeping it limited, based on the most recent research. The academy recommends a balanced approach to digital life for your children, and the new guidelines emphasize content and context: what children watch and who is watching with them.
The guidance from the American Academy of Pediatrics includes:
Avoid digital media use (except video-chatting) in children younger than 18 to 24 months.
Parents of children 18 to 24 months of age who want to introduce digital media should choose high-quality programming/apps (such as those produced by the Sesame Street Workshop on PBS stations) and use them together with children, because this is how toddlers learn best. Letting children use media by themselves should be avoided.
For preschool and elementary school children, limit screen use to one hour per day. Watch a show or use apps with your children, help them understand what they are seeing, and help them apply what they learn to the world around them.
For all ages, avoid fast-paced programs, apps with lots of distracting content, and any violent content. Place consistent limits on the time spent using media, and the types of media, and make sure media does not take the place of adequate sleep, physical activity, and other behaviors essential to health.
Parents of children affected by ADHD who are concerned about their child's overuse of media may want to establish tighter limits on screen time. In some cases it may be necessary to seek professional assistance in maintaining healthy limits. For more on this, read Help! My Child is Addicted to Video Games.
Five apps you might like
Children affected by ADHD often struggle with maintaining attention, organizing information and problem solving, and working memory. Many children are delayed in developing social skills. Keeping the American Academy of Pediatrics' recommendations in mind, we took a look at five apps that are educational and interesting for children affected by ADHD.
We played these games (fun time for us!) to see how they might help a young player practice skills that could help overcome some of the challenges caused by ADHD:
What skills are needed to use this app or what skills could a child develop with this app?
How does this app help to strengthen:
Attention
Organizing
Memory
Social skills
Breathe Think Do with Sesame Street
Familiar Sesame Street characters help children learn tools for solving everyday challenges. A parent section includes free resources, tips, and strategies. This bilingual app is part of Sesame Street's Little Children, Big Challenges initiative.
Skills: Children learn to calm down with deliberate deep breathing, and strategies for solving problems. It also aims to help child develop resilience when coping with difficult situations.
Strengths:
Attention: The narrator helps the child player to move through the game with gentle directions. It also demonstrates how to practice deep breathing to increase calmness and improve attention and feelings of well-bring.
Organizing: Helps children to prepare for and complete transitions between activities. The game also models how to create a plan for accomplishing an activity.
Memory: Several possible solutions to a problem are offered and the narrator helps the child to keep those possibilities in mind and then to evaluate which idea would be best for the character.
Social skills: The game encourages children to help the character. It also describes the social cues that help the child identify another person's emotions. Parents can personalize the app for their child with encouraging phrases to help the character solve problems.
Best for: Ages 2 to 5
Availability:
PBS Kids Games
A winner of the Kidscreen Award and Parents' Choice Recommended Mobile App in 2017, this app includes more than 50 free games based on popular PBS Shows. Children can learn about colors, identifying objects and patterns, and more advanced concepts including critical thinking, logic, science, and math.
Skills: These games seek to improve academic skills through practice in reading and math problem-solving. It encourages children to work with the characters and practice various social skills. This app has multiple games so parents can choose which interactive skills they would like their children to practice with the characters.
Strengths:
Attention: There are a variety of popular PBS children's' characters from which to choose. If a child becomes bored with one character or game sequence, there are new ones to try out and continue to practice the previously mentioned skills.
Organizing: Children practice fine motor skills in manipulating objects on the screen to help other people or to solve puzzles.
Memory: There are matching games based on a "memory" card game, where players need to keep in mind where they last saw a card in order to pair it with its match.
Social skills: The characters encourage young players to ask a grown-up to play with them. It also encourages children to learn cooperation and models ideal classroom behavior.
Best for: Ages 2 to 8
Availability:
Todo Math
Todo Math is an intuitive and interactive math app designed to help children of all abilities and learning differences practice math. With gameplay and fun visuals, the app can be particularly helpful for children with visual or auditory processing issues, or math issues. Several levels are free, with paid upgrades available for access to the full curriculum.
Skills: This is a math-education game that moves young children from pre-school math skills through mastery of first grade math skills. Parents can pick which level is appropriate for their child and can monitor their child's progress.
Strengthens:
Attention: Children need to follow onscreen directions in order to accomplish tasks.
Organizing: Children are encouraged to look for patterns and use those patterns for problem-solving.
Memory: The game builds on concepts established on previous levels but also allows the child to review information.
Best for: Ages 2 to 8
Availability:
Flow Free
Simple enough for young children and engaging enough for teens and adults, this free game is a color-based puzzle with hundreds of levels. Connect matching color dots on the board by swiping with your finger to create pipes, but don't cross pipes! The game is simple, fun, and requires increasing levels of complex thinking.
Strengths:
Attention: This is a quiet game with no distracting content. Players are encouraged to remain focused on one task.
Organizing: This game encourages problem solving as the player connects the dots on the game grid.
Best for: Ages 8 and up
Availability:
Science360
Developed by the National Science Foundation, this tablet app provides easy access to science and engineering images and video gathered from scientists and universities around the world. Videos will appeal to nature- and science-lovers, and include scientists studying jellyfish and mathematicians studying how snakes move.
Skills: Good for older children, this app shares information on science for young people. It helps encourage curiosity about the natural world.
Strengths:
Attention: This allows the player to choose topics to explore further, encouraging the player to stay on task.
Social skills: There is a social media component for older user to interact with other people interested in similar science-related topics.
Best for: Ages 9 and up
Availability:
What are your favorite apps for your children, and how do you and your children use them?
Does your child with ADHD pester to use your smart phone or tablet? We took a look at professional recommendations regarding screen time and considered five apps your family might like. Keep reading for ideas.