ADHD Numbers Are Going Up, But So Is Awareness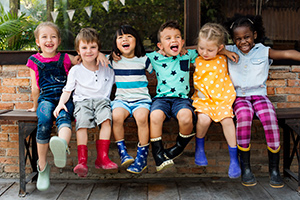 "ADHD is overdiagnosed!" This refrain is frequently heard by parents considering an evaluation or discussing their child's diagnosis with family or friends. Often the implication is that most children diagnosed with ADHD don't really "have" the disorder or that parents are looking for an easy way out of difficult parenting situations.
It is true there has been an increase in ADHD diagnoses in the past several years. However, the prevalence rate―the number of people believed to have the condition regardless of medical diagnosis within the population―has remained steady. The diagnosis rate―which measures the number of people actually diagnosed with a condition and is separate from the prevalence rate―is estimated at 9.5 percent of children who have received a diagnosis of ADHD at some point before the age of 18 in the United States. This is up from 7.8 percent in 2003.
Controversy surrounding diagnosis of ADHD
"The reported rise in the rates of diagnosis and treatment is controversial," acknowledge Pamelynn Esperanza MD, and John T. Walkup, MD, for Attention magazine's Rising Rates of ADHD Diagnosis and Treatment. "Many experts and the public strongly suspect over diagnosis due to a variety of factors."
Dr. Esperanza and Dr. Walkup suspect the increase is related to factors including direct-to-consumer/patient advertising and the marketing of new medications to doctors. Other people suspect pressures from increased emphasis on academic success and a decreased amount of time families can spend together.
However, Dr. Esperanza and Dr. Walkup contend that due to efforts by various agencies and organizations, we "may be reaching a point where children and adolescents with ADHD have a chance to be identified and treated…early in the course of ADHD."
Research on the question of over- or underdiagnosis of ADHD actually points toward an under diagnosis of the disorder, they write. The difficulty is that some children who may have other health conditions with symptoms similar to ADHD may receive an incorrect diagnosis before receiving the correct one.
The answer is between yes and no
John M. Grohol, PsyD, a mental health researcher and the founder of Psych Central, says there has been an increase in the diagnosis of children's mental health and cognitive disability conditions "across the board," not just in ADHD. He attributes this to parents' and professionals' greater willingness to seek evaluations than in previous generations.
"How do we objectively determine what is 'over' diagnosis of a disorder to begin with?" he asks in Is ADHD Overdiagnosed? Yes & No. "More than we'd like? More than a society 'should' have? The research evidence suggests that there actually is probably both some overdiagnosis and underdiagnosis of most kinds of mental disorders."
This doesn't mean we should shy away from pursuing evaluations for ADHD and other mental health conditions when we suspect a child or an adult is struggling, he says.
"So is there an actual, real overdiagnosis of ADHD, or is this a figment of the media's imagination?" he asks. "The answer is probably somewhere in between…It doesn't help when the media pay undue attention to this one diagnosis, without putting the rise in diagnosis rates in context with other disorders (which, in some cases, have experienced similar increases)."
What it means
The changing number of diagnoses reflects greater education on ADHD in the community. More families are willing to seek out evaluations and treatment when their children are struggling.
"We may be approaching a time when all children and adolescents with this illness will receive proper disease assessment and appropriate evidence-based therapy," Dr. Esperanza and Dr. Walkup say. "And this, of course, is the goal of all well-intentioned parents and providers: to identify ADHD, treat it effectively, and maximize each child's well-being."
For more information:
What are your thoughts on the increase in ADHD diagnosis numbers?
The number of children diagnosed with ADHD is increasing, but the prevalence rate seems to be remaining the same. Researchers think greater awareness of ADHD and effective treatment might be the reasons. Keep reading for their assessment of the increase.