Get Ready for Summer: Tips for Parents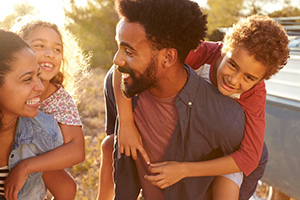 Summer vacation begins soon. Are you ready?
When you have one or more children affected by ADHD, now is the time to start making your summer plan. Families affected by ADHD do well when there is structure. When school is out for the summer, parents must create that needed structure.
Paula L. Novash asked parents for their tips on creating a good summer vacation for their families. She shares those tips with readers of CHADD's Creative Parenting blog in Manage Those Lazy, Hazy, Crazy Days of Summer.
Don't let go of your routine
Just because you don't have the schedule of a school day doesn't mean that you can let routines slip away. Parents can create a daily routine that includes when you expect your children to be ready for the day, and morning and afternoon activities planned out. Choosing one big activity for each day of the week (library visits, swim lessons, hiking in the park) and one small activity (bedroom pick-up day, books and lemonade, video game competition, etc.) can help you establish a routine for the week. You can design a weekly routine calendar to post in your home where your children can easily check it to know what is coming up.
"The daily schedule can include elements such as waking time and bedtime, chores, scheduled activities such as camps and classes, and free time," Ms. Novash says. "Parents should make sure children have time for active play and exercise. And they may also want to consider screen-time guidelines for use of electronic products."
Ms. Novash also suggests including some academic time during the daily or weekly schedule. Your children can practice reading skills with favorite books or practice science and math by conducting their own experiments. Your local library is often a good place to find both activities as well as reading or academic resources. Often libraries will offer reading clubs for children to practice their reading skills and win prizes.
Summer tips for families with ADHD
Get involved in summer activities. Check out the library, local parks and recreation centers, youth organizations and your local school district and community college for child-centered summer activities. Sign children up for one activity at a time, preferably ones that can be shared by siblings.
Plan opportunities to spend time together as a family. It's very easy for everyone to go their own ways during the summer. But this is a chance to spend time together without the pressures of homework, grades and behavioral expectations.
"Many families find that the relaxed summer routine gives them more time to interact in positive ways," Ms. Novash says. Look for activities when you can spend one-on-one time with each child.
Go wireless when you can. Cell phones and walkie-talkies offer independence and also help you keep track of each other. Summertime is a good time to practice skills related to your child's growing independence. Using walkie-talkies in the neighborhood and cell phones for older children allow them to go farther from home but remain in contact with you.
Make a box of activity ideas. When your child cries "I'm bored!" or runs out of ideas on what to do, he can pull out a slip of paper with an activity written on it as a starting point for what to do next. Spend time as a family to write down different ideas to add to the idea box. Some suggestions to include:
Crafts, such as scrapbooking, collecting, etc.
Sports programs, especially in noncompetitive leagues where everyone participates
Neighborhood nature walks
Reading aloud
Art projects
Bike rides
Outside science experiments
Charades and skits
Play a board or card game
Interactive computer or video games
Develop a "Treasure Hunt" for friends or siblings to go on
Write a coded message and challenge a friend or sibling to "crack the code"
Looking for more suggestions? Keep reading Manage Those Lazy, Hazy, Crazy Days of Summer.
What are you plans for this coming summer? Share with our community.
Summer is on its way. Now is the time to make plans for keeping your children with ADHD on track for a good summer vacation. We have tips to help you plan! We have ideas to help make it a good summer.