Halloween Tips for Your Little Pumpkins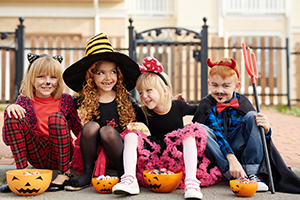 On Halloween night, a little boy is hunkered down in a pumpkin patch, looking hopefully to the sky. "The Great Pumpkin will rise out of the pumpkin patch," he tells his sister. "He flies through the air and brings toys to all the children of the world."
Maybe you remember this scene from It's the Great Pumpkin, Charlie Brown, as Linus waits for the Great Pumpkin to bring his treats while his sister Lucy impatiently waits for him to get a move on so they can go trick-or-treating. Just like the famed Peanuts characters, you may be waiting for your little pumpkins to get into their costumes and head out for a party or trick-or-treating.
We don't know if any of the Peanuts gang coped with ADHD symptoms, including impulsivity, distractibility and accompanying sensory concerns, but you may need to keep those symptoms in mind on Halloween night to prevent ADHD from dropping a rock in your children's trick-or-treat bags, just like Charlie Brown got.
Taking time to talk with your child before Halloween can help to ease some of the stress you both may feel. Talk with your child about staying alert on Halloween night and role-play with her how to trick or treat. Prevent over-active imaginations from becoming scared by demystifying the spooky aspects of the holiday – talk about how ghostly illusions are made and use silly-faced ghosts and goblins for decoration.
Impulsivity can often lead children to reach out for hot or dangerous objects, such as candles, or to dart across the street before looking for on-coming vehicles. Children who are easily distracted can get lost in the dark or not pay attention when walking with a group. Many children affected by ADHD find that clothing and shoes, including hairclips and hats or Halloween masks, can be bothersome or itchy or feel too tight. Consider how ADHD symptoms might be affecting your child when planning his costume and the evening's activities.
Tips for an ADHD-friendly Halloween:
Avoid open flames and candles. Use flameless electric candles to light jack-o'-lanterns. In addition to impulsively reaching for a lighted candle, many children affected by ADHD also cope with poor coordination. Flames are a hazard around costumes and could cause burns or be knocked over on to flammable materials.
Take the trick out of trick-or-treating. For children with co-occurring anxiety, Halloween can be overwhelming or scary. Talk to your children before Halloween about where they will trick-or-treat. Stick to familiar areas to help your children stay confident and be less likely to get anxious, especially if they trick-or-treat after dark. Children should not be trick-or-treating without an adult. For teens, work with them to plan the route in advance and discuss your family's expectations for their behavior. Have them go out in a group—safety in numbers.
Select ADHD-friendly costumes. Keep your child's ADHD symptoms in mind when selecting or designing a costume. Many times masks are too distracting or, for children with sensory issues, too bothersome to stay on. Costumes that drag the ground can cause a distracted child to trip at the wrong time. Uncomfortable shoes can lead to sore feet or roadside meltdowns. Limit the number of props a child carries, perhaps sticking to a candy bag and flashlight. Props can get lost due to distraction or forgetfulness. Poor decision-making and impulsivity with props can lead to injuries.
Make sure your child can be seen! Impulsivity can lead children to dart across the street and distracted children don't always look both ways. Put reflective tape or lights on your child's costume and trick-or-treat bag. Have children carry flashlights and glow sticks for increased visibility.
Inspect the treats. Don't let your children eat candy they've received while trick-or-treating until they get home. This may mean heading off impulsivity by bringing along a few treats from home to tide your child over until you can take a look at this year's treats.
This Halloween, you might also consider offering non-food treats for trick-or-treaters. Many children affected by ADHD also have food allergies or sensitivities. Offer Halloween-themed pencils, favors, school supplies, or glow sticks instead of candy. The Teal Pumpkin Project has tips on inclusive Halloween treats.
Keeping these safety tips, and other tips you may learn from your local community police, in mind will help your children have a safe but spooky Halloween without letting ADHD get in the way. Because, as Sally Brown, Linus' biggest fan says, "Maybe there is a Great Pumpkin!"
Tell us what you think. Comment on this article.