Ready for the Season? Prepare Your Fall Clean-Up Checklist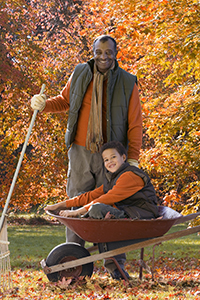 Autumn has arrived and Halloween is around the corner. Now is a good time to get your home ready for the coming winter before the frenzy of the holiday season erupts. When you have ADHD, getting yourself motivated or knowing where to start can be a challenge when it comes to organizing your home.
This time of year is a good time to look over the calendar and schedule any doctor appointments for medications checks and physicals that you or your children may need in the coming year. If you or your child employs medication as part of your treatment plan, an annual doctor's visit can evaluate the effectiveness of the medication and make changes to the prescription to the treatment plan if needed.
Leslie Rouder, LCSW, offered readers of Attention magazine tips on seasonal cleaning and organizing projects in Spring Cleaning? ADHD? No Problem! that also apply when leaves begin to fall.
"Get clear about the value of completing these projects, how they will positively affect your life, and keep those reasons in mind," Ms. Rouder says. "Consider making a list of all the benefits and posting it near the project location so you will be reminded of them."
Remember to break tasks into smaller, manageable bites. If you have bigger projects that need to be done, schedule a date and time to tackle them and place each on your calendar. For tips on breaking larger tasks apart and motivating yourself, visit our Organization and Time Management information.
"Know your engagement threshold and use it to your advantage," Ms. Rouder advises. "Your engagement threshold is the longest amount of time you can consistently work while staying focused on a particular project, without being distracted or losing interest. After you have that figured out, evaluate how long you will actually need to accomplish the project. Since people with ADHD often have difficulty estimating how long a project will take, try adding a cushion of about fifty percent more time. If the task takes less time than you think, you may be delighted to find you have a bit of unexpected extra time for yourself at the end of the project."
She also recommends breaking up tasks into smaller pieces and setting aside time for each piece or task based on your engagement threshold. Children can help by sorting their bedrooms or by having a written list of three goals to do in one of the rooms of your home. Young children like to work with their parents, while older children can be challenged to make a game of the task, with appropriate rewards for their accomplishments.
Selecting one room at a time to declutter can be more useful than trying to declutter the whole house. A quick way to start decluttering is to create groups of items, added based on either the type of item or the location where the items are destined to go – all clothes in a laundry pile while all items that go in the home office (such as pens, scissors, or incoming mail) in their own pile. Once the items are grouped, take each entire group at once to its destination. You can either put items away at the time, or leave them in the room for when you are ready to work on that space.
"Consider those times when you have the greatest energy and ability to focus," she says. "If you know that your medication wears off at 6 p.m., don't start that project at 5 p.m. just because that's when you get home from work. If you are a morning person, don't start that in the afternoon. Work with your schedule [and] block it off [on] your calendar. If you don't make an appointment with yourself, you may put off the project altogether."
The goal is to accomplish the basics and to remember that "good enough" is good enough. Ms. Rouder says accomplishing the task is what counts, not creating a picture-perfect scene.
"Don't be a perfectionist," Ms. Rouder says. "Many people with ADHD get caught in doing such a perfect job that they lose sight of the big picture. Make a point of not getting stuck in the minutiae. Do as much as you can as quickly as possible until the job is complete. You can always go back after it is finished to make it even better, if you so desire."
We've prepared a few helpful to-do lists of some common fall tasks. Select from our lists the points that apply to your home or family to start your own fall clean-up list:
In the yard:
Bring in or cover your outdoor furniture. Cover your grill if it is unused during the fall and winter. Bring in garden hoses and shut off exterior water faucets and turn off irrigation systems.
Clean roofline gutters and clear out water runoff systems around your house.
Clear out gardens and prepare them for the winter. If you compost, prepare your compost system to bed-down for the winter.
Check on septic systems and well systems. Schedule annual maintenance for both. If you have a back-up generator to run your well pump during a power outage, schedule annual maintenance for it, too.
In the garage and storage:
Does it snow where you live? Now is a good time to clean your snowblower or take it to be serviced for the season. Also, check on your supply of snow shovels and of ice melt. Hardware stores have already begun to stock these items, and costs tend to be lower before the snow actually starts to fall.
Ditch any tools or building supplies that are broken, outdated, or not likely to be used in the next 12 months. Repair or replace tools that you use regularly that have been damaged during the summer.
Take your car to be serviced. This may include an oil change and winterizing the engine.
In the house:
Schedule a professional cleaning service for your rugs, or rent a rug cleaning machine on a day you plan to clean your rugs.
Damp mop baseboards and heating vents. Vacuum, dust, and wash light fixtures. If you have a central vacuum system, empty the collection unit.
Schedule maintenance for your furnace and hot water heater. Buy furnace filters for the next seven months. Clean the exhaust vent for the dryer. Have your fireplace cleaned and serviced, regardless of whether it is wood burning, gas, or ventless.
Change the batteries on your smoke detectors and the ones in your carbon dioxide and radon detectors.
In your closets:
Sort your clothes and put away any summer outfits that you don't wear during the cooler months. Collect and donate clothes that you no longer wear.
Wash or dry clean your winter coats. Double check that your family, especially if you have growing children, have the necessary rainy and winter clothing and footwear and that they fit.
Mend anything you can and throw out worn or damaged clothes that can't be mended.
Any clothes that have been outgrown by your youngest/last child can be given to charity or a younger cousin!
Lastly, look over your calendar and block out dates for holidays and family outings. Add a few days that say "Do Not Schedule" to give yourself a break.
Tell us what you think. Comment on this article.