Know Before You Go: International Travel with ADHD Medications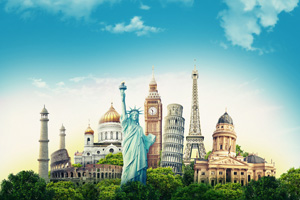 Do you plan to travel out of the United States, either for business or on vacation? Before you go, you need to reach out to both the US Department of State and the embassy of the country you plan to visit if you intend to take your ADHD medication with you.
"Travelers should not assume that medications approved in the US are approved in another country," the State Department advises. "At least two months before departure, the traveler should consult with the treating physician about specific medications and obtain a list of comparable, generic names, including their dosage and composition, in case there is a need for a refill if the medication is licensed."
What could happen if you don't check
The State Department describes the situation of a US citizen who was arrested while visiting Japan after her stimulant medication was shipped to her there. She had requested the medication be repackaged in the hope of protecting her privacy. Her prescription Adderall, which is an amphetamine, is not legal in Japan.
"She was released after 18 days and heavy US legislative- and diplomatic-level lobbying," the State Department reports. It warns that other countries, including countries in the Middle East, Asia, and Southeast Asia also ban or restrict ADHD medications commonly prescribed in the United States. European countries often have limitations on these medications, making it important for you or your doctor to check on regulations in those countries before you travel overseas with your medications. You should also contact the State Department for additional information.
Not all countries allow stimulant medications
"It's important to understand that some US prescriptions are actually considered illegal narcotics in Europe, such as Adderall and other stimulant drugs used to treat ADHD," says Micaela Kliegl, SAI Programs' vice president of enrollment services. SAI helps to place students in study abroad programs. "Even if your US doctor prescribed these medications legally to you in the US, that won't fly in Europe. You can still bring them legally, but you need to have the right documentation."
In some countries where certain medications are banned, being found with stimulant medications could mean being arrested.
Preparing for your trip abroad
In addition to the State Department's recommendation that you contact the embassy of the country you plan to visit and discuss your travel plans with your doctor, consider the following:
How can you receive official approval to bring your medication if it is limited in your destination country?
What medications can your doctor prescribe for you that are legal in your destination country?
Is there a local doctor with whom you can consult in your destination country? Is there a pharmacy nearby that carries your medication and can accept a US prescription?
Will your insurance cover overseas medical care or do you need to purchase additional insurance?
Getting answers to these questions as early as possible will allow you to make needed changes to your treatment plan before you leave. If you are traveling with an organization, study abroad program, cruise line, or other agency, contact that agency for additional information or recommendations.
Medication travel tips
Make sure the label on the medication bottle identifies the person who has been prescribed the medication.
Always carry medications in their original containers, listing both brand and generic names.
Keep medications with you in a carry-on bag or purse. All adults should carry their own medication. An adult caring for a child can carry the child's medication along with the child's travel paperwork.
Carry a copy of your doctor's prescription and the reason for your medication.
Keep information about your diagnosis or medications to yourself to reduce the risk of theft while traveling.
Make sure you have enough medication to cover your entire trip. If you will need your medication refilled, discuss this with your doctor ahead of time. Look for a pharmacy near your hotel, Airbnb, or hostel that can refill your prescription if needed.
Learn more before you go:
Join the discussion: Have your traveled to another country with your ADHD medication? What was your experience?