Last Minute Gift Ideas for Children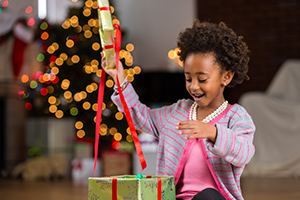 Holiday Gifts for Children with ADHD
Featuring Megan Murphy, MEd, DT
Hear from Megan Murphy, MEd, DT, a family play specialist at the National Lekotek Center who focuses on matching appropriate toys and games to children of all abilities, as she uncovers the top tips for finding the best holiday gifts for children with ADHD:
What types of toys to look for
How to evaluate a toy or game
Toys that encourage creativity, social skills and family bonding
This special 30-minute Ask the Expert Highlight is an interview with Ms. Murphy, as discusses toys and games that are well-suited for a child affected by ADHD and other conditions.
Are you looking for last minute gift ideas for the childern in your life? Our guest expert is a specialist in matching the right toy to each child!