Home for the Holidays: Making a Happy Winter Break Experience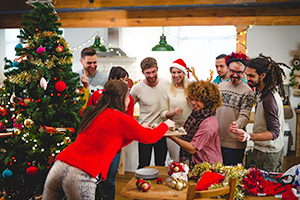 The holidays are here. Questions like, "Which traditions does our family want to celebrate and continue?" have been answered. It's the little things that are snowballing that need to be addressed now. Such as cleaning the house.
Getting ready for the holidays at home can test anyone's patience. With ADHD in the mix, you may get overwhelmed quickly. You may find it difficult to start or stay on task. Can you offer to co-host holiday events with another family member, perhaps even at that person's home? If that's not going to happen, we've got some tried-and-true suggestions to offer you.
Keep reading for these suggestions on creating your happy holiday home at From Hyper to Happy II: Your Holiday Home from Creative ADHD Parenting: A CHADD Blog.
What are your suggestions for creating a happy holiday home?
Winter vacation is here! What is your plan to make it a happy holiday season? While going away sounds like a great idea, most people are spending this holiday season at home. How can you create a happy holiday home for your family during this winter vacation?