Make Plans for Your Child's Education Now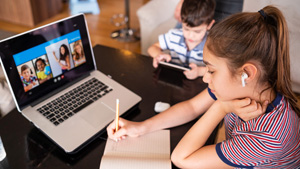 If your child currently has an IEP or 504 plan, now is the time to be in touch with the education team regarding those academic accommodations. Schools are releasing their plans on how students will be educated for the fall semester. Many schools are still working out how to provide academic support to students with ADHD, learning disabilities, and other disabilities.
The ongoing COVID-19 pandemic has forced the majority of school districts to reconsider their school days and how students are brought on campus for education. Schools are setting up at-home learning programs, split educational days with half of the student body present at a time, or hybrid programs of in-school/at-home days.
Students who receive academic accommodations, including those for ADHD, must still receive those accommodations as long as the school district continues to educate all students. Compensatory services and additional support may be available for your child, but parents need to be proactive to arranging those services.
Academic support for at-home learning
"The shared reality of the in-person and the distance learning contexts is that teaching is much less important than focusing on whether and how students are learning," says Colin Seale, author of Thinking Like a Lawyer: A Framework for Teaching Critical Thinking to All Students.
Discuss with your child's academic team what resources will be available and what resources the school wants parents to provide. This includes not only computers and tables, but internet connectivity, parent and teacher support, and printed materials. If your child receives additional instructional time, how much time can you expect during distance learning? How will assignments be completed and submitted, and when should parents follow up with the teacher regarding the schoolwork?
If the school is providing full instruction, how long will the educational day be? Some schools anticipate a full-length traditional school day, while others plan an abbreviated day. If the school day is shorter, this may affect the amount of time a student receives for additional support, individual instruction, or test-taking. These changes may need to be added to the IEP or 504 plan for the coming semester.
If the school is virtual for the semester and parents need to make arrangements for childcare during the workday, these arrangements may need to be added to the educational plan. Some students may be completing schoolwork in the evenings because of the needs of their families. Parents should ask if educational support will be available outside of traditional school hours.
In-school instruction with new routines
If your school district has published the new routines and safety precautions for in-school learning, take the time now to become familiar with them. Each school district is creating a plan based on the community's needs and resources. Commonalities include face coverings and masks for students and staff, social distancing in the classroom, and working with face shields and clear barriers between desks.
For the student who has ADHD and may also cope with impulsivity or poor decision-making, these new routines and requirements could become sources of difficulty. If behavioral concerns are part of a child's IEP or 504 Plan, openly discuss them with the academic team. Deciding in advance how those challenges are handled could help your child better deal with school changes.
Educational laws and rights are unaffected by the pandemic
While schools continue to find ways to meet student needs, students' rights under IDEA and Section 504 remain. Schools must provide all students with a free and appropriate public education during this time.
For families, this means educational team meetings must continue to be held when parents request them and can be conducted by telephone or teleconference. Current academic supports and modifications must also continue as much as possible amid these circumstances.
If a parent believes a child could benefit from academic accommodations, they can still request an academic evaluation and a plan can still be created for that student.
"Through this entire process, it is crucial that schools work closely with families to think and plan about how best to meet the needs of their children in what may be a chaotic and constantly changing environment. These challenges can best be met together," educational experts say.
Learn more about your child's educational rights:
Join the discussion: What are your family's plans for the coming school year?