Milestone Tracker App Helps Parents Follow Child's Development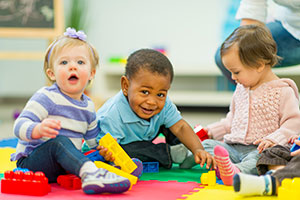 Every parent of a young child occasionally wonders if her little one is on schedule with his development. The CDC just introduced a new tool to help parents keep track of their young children's development and open the conversation with their pediatricians to help them stay on course.
The new
Milestone Tracker
app can help children and families get the services and support they need. It's available for both
Android
and
Apple
products.
The app is developed by the
Learn the Signs. Act Early.
campaign, which seeks to improve early identification of children with autism and other developmental disabilities, including ADHD.
"It's fun and easy for parents to track their child's early development milestones," says Julia Abercrombie, MPH, a behavioral scientist with the campaign. "It encourages parents and providers to learn the signs of early development and take action when there's a concern."
The Milestone Tracker app was developed to help parents follow their children's development from two months through five years of age. Using photos and videos, it helps parents recognize their children's milestones in development. It also helps parents keep information about their children's health and reminds them of well-child visits and health check-ups. It uses information developed by the American Academy of Pediatrics to send parents reminders about their children's health. The app contains additional resources for parents to learn more about their children's health.
"People were asking for an app like this," Ms. Abercrombie says. "We haven't had an app that parents can take on the go before this. You never have to worry about losing paper. It provides a new format that is fun and easy and you can take it on the go. Many young parents appreciate having an app like this they can keep on the phone."
Ms. Abercrombie says creating this app made sense as part of the
Learn the Signs. Act Early.
campaign. It gives parents information for celebrating the developmental milestones when their children reach them, and also start a conversation when milestones are not reached during the expected time frames.
"If a child isn't making a milestone, it's important to have that conversation with the child's doctor and share that concern," Ms. Abercrombie says. The app will also point to informational pages for parents who are concerned about the speed of their child's development. "Really all parents should track their child's milestones and act early if they have concerns."
Checklists for developmental milestones
This app includes interactive checklists that use information developed by the American Academy of Pediatrics. Parents can select the answer to questions on the checklists and watch short videos for more information on the developmental milestones.
Ms. Abercrombie says part of the checklist approach is to help parents identify when their child may have missed a milestone and if that is a sign that there could be a developmental delay or that their child is not on track for his age.
"If they check any of those warning signs, then that would warrant a conversation with the doctor or health care provider," she says. "Development disabilities are much more common than many parents realize."
The CDC website quotes one mother, Jasmine B., who has a one-year-old child, as saying, "I love the photos and videos on Milestone Tracker, it helps me to know exactly what milestones my son should be reaching."
ADHD is a neurobiological disorder that often begins to show symptoms in young childhood. Formal evaluations for the disorder are usually conducted when a child is about five or six but could be done as early as four if the child is missing expected milestones for behavior and attention.
Preschool children are more likely to have trouble at their daycare or prekindergarten classes for disruptive behaviors. Some children, because of a maturity delay related to ADHD, will act younger than their age while others will be more active and will take more risks than their peers.
Pediatricians who suspect ADHD in their young patients often counsel a "watch and wait" approach before an evaluation, but parents can also receive parent training as an intervention at this age, even before a formal diagnosis. You can learn more about ADHD in young children at
Preschoolers and ADHD
.
The milestone tracker can help parents gauge where their child is when it comes to some of these behavioral and attentional issues. ADHD has a high co-occurrence with other developmental disabilities, which the tracker is designed to follow.
"It's a real benefit to explain some of those milestones," Ms. Abercrombie says. "Especially important is information on when to act early and when to have a conversation with a doctor if there is a concern."
ADHD, developmental disabilities, and public health
The
Learn the Signs. Act Early.
campaign is a public health campaign by the CDC's National Center on Birth Defects and Developmental Disabilities to help parents and health care providers identify children who may be affected by autism, developmental disabilities, or co-occurring conditions, such as ADHD. By recognizing early when a child is struggling, parents and providers can provide interventions that can help that child.
"By acting early, we can get children the services and supports they need to reach their full potential," Ms. Abercrombie says. "And that's the overall public health mission for us."