New Eyewear Might Help Improve Teen Driving Safety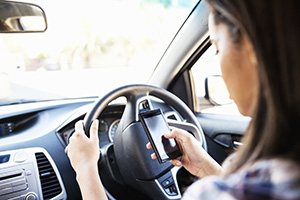 What if a new technology, even an app on your teen's cell phone, could help them to become better drivers?
Parents are usually cautious when it's time for their teens to take the wheel. When teens have ADHD, their parents have additional concerns. Common ADHD symptoms, including inattention, impulsivity, and distractibility, can make it hard for teens to follow the rules of the road. The added distractions of smartphones or having friends in the car can also increase a teen's likelihood of getting a traffic ticket or being involved in an accident. A 2019 study of 15,000 teen drivers found that those with ADHD were 62 percent more likely to be involved in a crash within the first month of having their license than their peers without ADHD.
Two researchers at the STAR Heel Lab at the University of North Carolina Chapel Hill are developing a wearable device similar to a pair of glasses that tracks the driver's eye movements and can alert the driver when their eyes have left the road. As the device is further developed, they hope to have it made into a cellphone app that can be used with the device to alert drivers that they are no longer watching the road.
Keeping their eyes on the road
A 2019 study of 15,000 teen drivers found that those with ADHD were 62 percent more likely than their peers without ADHD to be involved in a crash within the first month of having their license. In the first four years of driving, study participants with ADHD were 37 percent more likely to be involved in a crash.
"Drivers with ADHD have a very high risk of crashes in their early years of driving," says Adam Kiefer, PhD, researcher and co-director of the UNC STAR Heel Performance Laboratory. "The only interventions that currently exist to help students with ADHD drive more safely are pharmaceutical."
Dr. Kiefer and co-researcher Ryan MacPherson, MS, began developing this innovative wearable driving intervention for teens in 2019. Mr. MacPherson's experience in eye-tracking technology pushed the project forward. When driving, two seconds is the most amount of time that it is safe to look away from the road. Dr. Kiefer and Mr. MacPherson theorized that prompting teens with ADHD to bring their eyes back to the road when they are to be caught in a longer glance away would reduce the number of crashes they experience.
They created a study with 152 teen drivers who have ADHD and divided them into two groups. In simulated driving sessions, their eye movements were tracked, but only one group heard an alert signal when their eyes strayed for too long. The teens were then given secondary tasks—eating, looking through a bag, checking a cell phone, talking with a friend—and monitored for how long their eyes left the road. After the sessions were completed, the teens' driving experiences were tracked for six months, measuring their rates of deceleration and what caused the sudden changes in speeds or abrupt stops.
The results of the follow-up showed the teens who had trained with the alarm for glancing away had fewer crashes and near-accidents than the control group, and they maintained their eyes on the road longer and more continuously than the control group. The difference between the drivers with the eye tracking and alert signal and those who were not alerted when their eyes strayed was forty percent fewer crashes and near-accidents.
"This is the first nonpharmaceutical intervention to show efficacy in this population of drivers, and it was well-received by them, too," Dr. Kiefer says.
The next steps include turning the technology into a virtual reality device or a cellphone app that teens can use to help them maintain their view of the roadway.
Before the tech is ready, you can help your teen prepare to drive
Dr. Kiefer's technology is not yet ready for commercial use, but parents can take steps to help their teens be better drivers based on existing research.
"Taking their ADHD medication while driving may be among the most effective preventative steps to take to reduce the substantial risks," says Russell Barkley, PhD, in a conversation about teen drivers on his Facebook page. Dr. Barkley, a retired clinical psychologist and clinical scientist, has researched the risks for teen and adult drivers with ADHD. He writes and speaks with the public about what he's learned because he feels very strongly that drivers with ADHD need proper treatment.
"My medication helps with my driving quite a bit," writes one teen driver on a popular social media site. "I'm not so anxious and I focus better, I'm not constantly freaking out about the possibilities of deer and squirrels and cars and trucks and overly sensitive to danger, which is actually not a GOOD thing when driving."
Sticking with a treatment plan, whether that includes medication and/or behavioral therapy, is ideal for teen drivers with ADHD, says Dr. Barkley. In one study, he and Daniel Cox, PhD, reviewed the risks associated with teen drivers who have ADHD and found that medication is the only known treatment shown to help ADHD driving behavior.
Making sure that your teen completes a driver education program and knows the rules of the road is important. Programs like the ADHD Safe Driving Program, developed by Dr. Barkley and Dr. Cox, is a graduated license program that runs for eighteen months. New drivers complete three levels, each lasting six months. Parents and their teens track medication compliance (if prescribed) and complete a log for each driving trip. During the first six months, teens drive only during the day; in the next six months, they are allowed to drive both day and night. During the last six months they can drive at any time with agreed-upon rules, like not using a smartphone while driving or limiting the number of friends in the car.
A graduated license program or similar driver's education program can also help your teen build confidence in driving by providing them with adequate practice.
"I was fearful at first of driving even though I took driver's ed, so I waited a while to get my license," says one seventeen-year-old new driver. "I was afraid my ADHD would get in the way of my driving, but I got a job and needed to drive, so that helped me get over my fears."
Talking about the risks, driver's education that takes ADHD into consideration, and planning will ensure that both your teen driver and you are ready for the open road.
Is your teen ready to hit the road? Check out these topics first:
Join the discussion: How did your family approach driving for your teen?