Plan and Shop for Your Pantry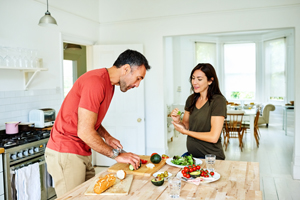 Nearly a month ago, social distancing guidelines meant to reduce the number of people becoming sick with COVID-19 went into effect. One of the biggest changes to daily life experienced by most people is how they shop for groceries.
Many adults coping with ADHD have learned that their impulsivity challenges them when grocery shopping. Even when a grocery list is written, sticking to the just the items on it can be hard. Difficulties with short-term memory often mean multiple trips to a grocery store during the week when they realize something else is needed for dinner. For many people, browsing store aisles and imagining wonderful meals is also a draw.
So, how can you plan for meals and stock your pantry now—while managing ADHD symptoms and limiting how often you leave your home?
Stocking your pantry
Having a variety of foods in the pantry gives you the ability to be impulsive in some ways—like when you want to bake cookies after everyone else has gone to bed—and helps you to stay on track with nutrition goals. It also gives you flexibility in what meals you can prepare.
"Cooking is simpler and faster when you already have the ingredients," writes Julia Moskin in "How to Stock a Modern Pantry" for the New York Times. "The rule here is stock your pantry mostly with what you're confident using, and what you love to eat. You'll turn to it again and again."
What should be in your pantry? Start with the basics and include the ingredients you use most often and enjoy adding to your dishes:
Flour: all-purpose, bread flour, whole wheat, and cake flour
Ingredients for baking: baking soda, baking powder, cream of tartar, vanilla extract, cocoa powder, and chocolate chips
Sugars and sweeteners: granulated sugar, brown sugar, honey, maple syrup, no-calorie sweeteners such as stevia products
Spices, seasoning, and herbs. While individual spices, seasonings, and herbs give you the flexibility to combine flavors, also having some premixed blends such as apple and pumpkin pie spice, poultry seasoning, and steak seasoning, can be timesavers.
Various pastas and rice, including boxed macaroni and cheese and quick rice side dishes
Condensed soups, canned beans for soups, canned or boxed broths
Frozen or canned vegetables
Potatoes, onions, and garlic
Condiments, including ketchup and mustard, and oils for cooking and salads
Peanut butter and jelly
In your refrigerator and freezer, you may consider keeping:
Various cuts and types of meats or vegetarian and vegan protein options
Butter, milk, and eggs
Fresh fruits and vegetables—always include your favorites
Planning your pantry for stay-at-home meals
What you include in your pantry varies based on your needs and what your family enjoys. If you don't already have a cupboard or other dedicated space, scout one out in or near your kitchen. Take careful note of how much space you have; you want to be able to keep most of your pantry goods there without crowding or overfilling the space.
Make a short list of your favorite meals and treats. What ingredients do they require and how many share those ingredients? Use those notes and the above guide to create your list. Before you create or add to your shopping list, go through what you currently have on hand and check off those items to narrow down what you actually need.
"For the most part, they're ingredients that last," Ms. Moskin says.
Grocery shopping and delivery during the COVID-19 crisis
"It's important to shop strategically," says Leah Brickley, writing for Food Network Kitchen.
Adults who have ADHD often receive the advice to make a to-do list. Having a grocery list while shopping—either in a store or using a delivery service—can improve the function of your pantry and decrease how often you may need to leave your home.
Shopping strategically with your list saves time and money. If you shop in a store, saving time helps to reduce your risk of exposure to the virus and your feelings of stress. If you are using a delivery service, having your list handy will help you fill your "cart" without having to browse through all the selections offered.
"If you are running low on food, the best option is grocery delivery," says Adele Jackson-Gibson, writing for Good Housekeeping."But if you absolutely must make a store run, it's important to wear a face covering and practice social distancing and proper hygiene."
If you do go out to the store, once you return home it's best to put your mask and cloth reusable grocery bags directly into the washing machine and wash them on high temperatures. If you don't have a washer, store them in a closed container or disposable laundry bag and launder them as soon as possible.
Helpful Resources:
Join the discussion: What's in your pantry that helps to make life with ADHD easier?