One in Three Students with ADHD Not Receiving Accommodations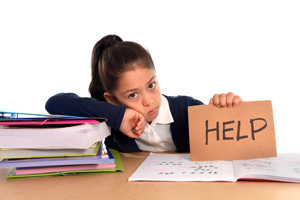 A new school year starts in a just a few weeks. Families with students who have ADHD are considering the possible benefits of academic accommodations during the year ahead. Did you know that about one out of three students who have ADHD and would qualify for accommodations in the classroom don't receive them?
Academic accommodations, including Individualized Education Plans (IEPs) and Section 504 plans, can help children who have ADHD be better students. 504 plans can also include modifications that meet a student's behavioral needs related to ADHD symptoms.
A recent study shows that not only are students with ADHD not getting the academic support they need, but that one out of five students received no school services even when demonstrating significant academic and/or social impairment.
"We expected that most students with ADHD would be receiving some form of support, but were surprised that so few were receiving services to manage their behavior," says George DuPaul, PhD, of the College of Education at Lehigh University. His collaborators in the study included Andrea Chronis-Tuscano, PhD, of the University of Maryland College Park, who is a member of CHADD's professional advisory board; Melissa Danielson, MSPH; and Susanna Visser, MS, DrPh, of the Centers for Disease Control and Prevention.
Academic support for ADHD
The researchers obtained information from the parents of 2,495 children with ADHD between the ages of 4 and 17 years. They found that almost 70 percent of students received one or more school-based service and 62 percent received educational support. Of the students with a formal education plan, about 43 percent had an IEP while almost 14 percent had a 504 plan.
This showed a gap of at least one out of five students without any school-based services for academic or social impairment, the researchers noted. The gap was most pronounced for teens and students who speak a language other than English at home and/or whose families have lower incomes.
"We expected that there would be disparities in service receipt based on age (in other words, teens received less support) and race/ethnicity," says Dr. DuPaul, "however, we were surprised with the extent to which these gaps were evident and the magnitude of the disparities."
Students who do receive academic support, including an IEP or 504 plan, have a greater opportunity to learn the material and demonstrate mastery in the subject than they would have without the academic support. ADHD is not a learning disability but it frequently interferes with a student's ability to learn because of symptoms, including inattention, hyperactivity, and difficulties with time management and memory.
Middle and high school students were less likely to receive academic and behavioral support than students in elementary school. This even true when academic need and social behavior are poor enough to warrant intervention, but are often mistaken for willful behavior or a lack of personal motivation.
Desiree W. Murray, PhD, has also studied academic accommodations for high school students. She says that chronic underachievement in high school can have negative consequences throughout adulthood. Dr. Murray is a member of CHADD's professional advisory board.
"Our results also suggest that 20 to 30 percent of students with academic impairment and ADHD have fallen through the cracks," says Dr. Murray. "Evidence-based practices can help improve long-term outcomes for high school students with ADHD. Providing effective services may contribute to increased graduation rates and successful transitions to adult life."
Getting support for your student at school
If your child doesn't already have an academic plan, you can begin the process even before the new school year. Contact your child's school in writing. Address your letter to either the head of special education for that building or the school principal, and let them know you would like an academic evaluation. Often the school administrator will then send you further information and forms needed to complete the request, including a permission slip to be signed.
If you make the initial request in person or on the phone, follow it up with a written request. You can write the request yourself or you can adapt a sample letter, such as the one CHADD offers in the Education Rights section of its website.
Once the request is made and the permission slip is signed, the school will schedule the academic evaluation and a meeting with you to discuss an IEP or a 504 plan for your child.
If your child already has a plan in place, or she is moving up from elementary to middle school, or from middle to high school, you should plan a meeting with the school's special education team to update the existing plan to meet your child's changing needs. Older students, especially those in high school, often participate in these meetings.
Students who have ADHD are eligible for academic services, even if they are passing or obtaining good grades, and can receive services for behavioral issues.
Learn more about your child's academic rights:
Join the discussion: How have academic accommodations helped your child be a successful student?