Pandemic Reveals Children's Mental Health Crisis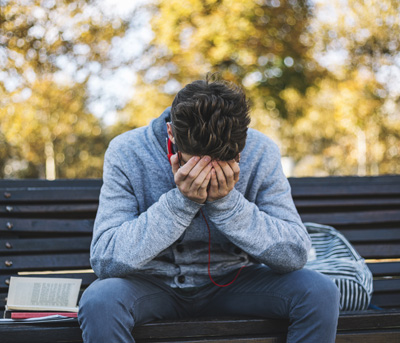 The popular refrain may be "the kids are all right," but are they, really? Research that began before the pandemic and continued through it paints a concerning picture about children and teens. An increase in diagnosed mental health conditions among all groups of children is leading parents and public health authorities to find ways to better address mental health and neurocognitive conditions among young people.
In recently released reports, the US Centers for Disease Control and Prevention labeled the results of studies on mental health in children and teens an "ongoing public health concern."
"Poor mental health among children continues to be a substantial public health concern. Attention-deficit/hyperactivity disorder (ADHD) and anxiety among children of all ages, and symptoms related to depression among adolescents, are the most common concerns," states its website related to the report, Mental Health Surveillance Among Children—United States, 2013–2019.
During the study's initial time period, 2013-2019, the most commonly diagnosed mental health conditions among children ages 3-17 were ADHD and anxiety, which affected an estimated one in every eleven children. Depression rates also increased, with almost 21 percent of middle and high school students experiencing a major depressive episode and one out of three students reporting ongoing feelings of sadness or hopelessness.
"Young people are critical to the future of society, so it's in society's interest to make sure we don't lose the talent youth could contribute to a set of problems that can be alleviated," says Alan Leshner, PhD, the former deputy and acting director of the National Institute of Mental Health.
Addressing mental health during the pandemic
Campus closures and at-home learning, limited social activities, and disruptions to family life were experienced in some form by nearly every child and teen in the United States. Many children lost a family member to COVID-19 or related complications, and more than 200,000 children and teens lost a parent or primary caregiver, an increase from 2021.
Prior to the pandemic, says Jennifer Katzenstein, MD, one out of five children would need mental health care before turning 17. She is a pediatric neuropsychologist for Johns Hopkins All Children's Hospital, near Tampa Bay, Florida.
"We continue to see an increase in anxiety, depression, suicide attempts and also disordered eating," says Dr. Katzenstein. "It's important to think about the access to care, because we had insufficient providers prior to the pandemic and now we're seeing higher rates than ever of anxiety and depression, not only in our kids but also in our parents and our families as a whole."
The increases in childhood depression and anxiety that appear to be pandemic-related are seen nationwide.
"We are seeing more kids in our inpatient unit, and our outpatient clinic is at a very high volume," says Yann Poncin, MD, medical director of outpatient clinical services for Yale New Haven Children's Day Hospital in Connecticut. "Plus, the severity is worse. We've also had more situations where the parents are taken aback, where the child seemed to be doing well and this appeared to come out of nowhere."
Public policy concerns about a pediatric mental health crisis
Children and adults with ADHD often have depression and anxiety as co-occurring conditions, making the increase in both conditions a concern for the ADHD community.
Ingrid Y. Alpern, JD, co-chair of CHADD's public policy committee, says the results of the study combined with the ongoing pandemic show there is a pediatric crisis.
"They have said there is a children's mental health crisis in the country," Ms. Alpern says. "ADHD is one of the major mental health conditions affecting youth. It plays a part in other mental health concerns."
US Surgeon General Vivek Murthy, MD, issued an advisory on the youth mental health crisis exposed by the pandemic.
"Mental health challenges in children, adolescents, and young adults are real and widespread," said Dr. Murthy. "The COVID-19 pandemic further altered their experiences and the effect on their mental health has been devastating. The future wellbeing of our country depends on how we support and invest in the next generation."
Ms. Alpern says proposed bipartisan bills in Congress could help to address the mental health crisis. There are too few providers available, and she would like to see steps encouraging more professionals to specialize in children's mental health care.
"We need to have policies that will encourage people to go into a very difficult field that requires years of training, for which there is very little insurance coverage," Ms. Alpern says. "All these mental health issues have been compounded through the years well before the pandemic, and the pandemic has exacerbated them."
What parents and professionals can do
Leana Wen, MD, is a professor of health policy and management at the George Washington University Milken Institute School of Public Health. She advises reaching out to your child's pediatrician if you are concerned for your child's or teen's mental health. If your child is receiving care from an ADHD specialist, you may want to discuss your concerns with that specialist to improve your child's care.
"Pediatricians can screen for depression, anxiety, and other issues," says Dr. Wen. "One-on-one time for older kids with their pediatricians can also allow them to be more open and for your child's doctor to probe what their concerns are."
Additionally, parents can take steps at home to help their children and teens cope.
"There are fantastic resources available online, great opportunities for enhancing coping skills and providing preventative steps in terms of meditation or mindfulness each day, and also for parents, really thinking about an opportunity for clear communication with our kids, no distractions," says Dr. Katzenstein.
Looking for more on ADHD, depression, and anxiety?
Join the discussion: What steps are you taking to support your child's or teen's mental health during the pandemic?