Readers pick Top 5 ADHD Weekly articles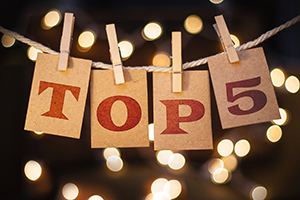 What were your fellow readers' favorite ADHD Weekly newsletter articles in 2016?
During the past year of this newsletter, we presented you with a wide range of topics, highlighting ADHD research and science, your health and ADHD treatment, educational rights and how ADHD affects relationships, careers, and social lives.
This year's top five articles, as decided by our readers:
Also near the top of our most-read list for this year were stories on Olympians Michael Phelps (ADHD Hasn't Stopped Michael Phelps from Winning Gold…Again) and Simone Biles (I'm Not Ashamed of My ADHD, Says Olympian Biles). Readers picked Guidance on 504 Plans Issued by U.S. Department of Education and The Benefits of Sports on ADHD Can Be Golden to round out the favorites list.
In the coming year, look for more articles on treatment for ADHD that include new approaches in diagnosis and treatment, lifestyle and behavioral management, more information on your child's educational rights and academic success, and how you can use the most recent information on ADHD to improve your life or the lives of your children and family members. Remember, CHADD brings you information you can believe: Research and science-based, not just the latest fads!
When you like an article we publish, share with your friends, and give us your comments! And we're also interested in knowing what more you'd like us to focus on in future–weigh in now!