CHADD Advocates before the Supreme Court for Students with Disabilities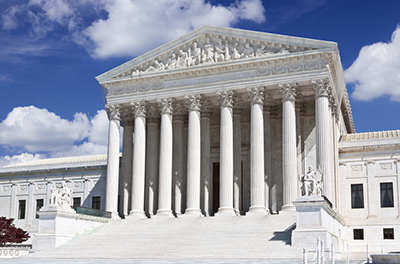 If you have a child with ADHD you may have talked with school officials on issues including: What are the minimum educational benefits that meet legal standards, which a child with a disability must receive under an IEP? And must a school district provide more than the minimum educational benefit for a student who has an IEP? The United States Supreme Court is currently weighing these questions.
The CHADD Public Policy Committee has signed on to a "friend of the court" brief, with the Council of Parent Attorneys and Advocates (COPAA) and the California Association for Parent-Child Advocacy (CAPCA), arguing that children affected by disabilities are entitled to more than a minimum education under the law.
"This is the most important case addressing the Individuals with Disabilities Education Act since 1982," says CHADD Public Policy Committee member Matt Cohen, JD. "The case involves a free appropriate education standard and what is meant by the word 'appropriate.' That single word is the most important word in special education, as it defines what level of services schools are expected to provide for students with disabilities, including ADHD."
The attorneys for a student affected by autism argued on Wednesday, Jan. 11, that he, and other students affected by disabilities, should receive an education that provides a substantial benefit through an IEP rather than a "non-trivial educational benefit" or minimum educational benefits. A lower court ruled the school district could provide the minimum and still meet the legal requirement. The student's parents and others are arguing before the Supreme Court that this is not enough and does not meet the written requirements under IDEA.
In the brief, CHADD, COPAA and CAPCA state to the Supreme Court, "A child 'benefits from' instruction when the services target all areas of educational need in order to ensure achievement consistent with non-disabled peers in the general education curriculum so as to enable students to be prepared for post-school activities."
"The court is being asked to decide to continue a lower standard that schools have used that defines 'appropriate' as being sufficient services to allow the student to receive some benefit," Mr. Cohen says, "or to raise the standard, to require schools to provide services sufficient to get meaningful benefit from the education. That's obviously a huge difference in what the level of responsibility (of the school district) would be. CHADD is very concerned because the existing standard as applied by schools frequently results in very little benefit" for children with disabilities.
The CHADD Public Policy Committee believes this decision has the potential to be applied to students affected by ADHD, especially since it has a direct relationship to educational law and academic accommodation plans, including IEPs and 504 Plans. (Visit the CHADD website for additional information on IDEA/IEPs and Section 504 Plans.)
Adopting a higher standard in providing educational services and benefits for students will improve the lives of children affected by ADHD and those with other disabilities who are receiving IEP services, Mr. Cohen says.
"There are different interpretations of the standard depending on the court and where you live," Mr. Cohen says. "It's important in terms of having one clear and consistent standard nationally. If the lower standard is adopted, it preserves the status quo and could make things worse because it will be an endorsement of schools doing the minimum. "
This case remains before the court. It could be decided in the next several months, Mr. Cohen says, or it may be as long as a year before a decision is handed down.
"If the outcome is successful, CHADD will be very involved in efforts to educate parents and schools that there is a higher expectation for what schools have to provide," Mr. Cohen says. "If the lower standard is adopted, we will have to find ways to argue for more effective services, even given the lower standard. Every kid with a disability will be affected by this."
"This is the most important special education issue in the last 30 years," Mr. Cohen says. "COPAA approached us to join the amicus brief that it had prepared. It's a positive reflection on CHADD's presence in the disability community, that our involvement was seen as useful." CHADD was invited to sign on to the friend of the court brief.
CHADD's Public Policy Committee provides information on ADHD to lawmakers and advocates for the ADHD community in the United States.
"Many members of our ADHD community have called with concerns about their child's legal rights to needs-appropriate education," says Leslie Kain, Executive Director of CHADD's National Resource Center on ADHD. "We wanted to let you know what CHADD is doing to advocate for you and your children through the CHADD Public Policy Committee. CHADD's advocacy activities are on-going. The CHADD Public Policy Committee remains involved in this case and other issues critical to safeguarding the rights of our constituents."
Does your child have an academic accommodations plan? What has your family's experience been in receiving appropriate education support?