Resources for Helping Your Family Cope with an Emergency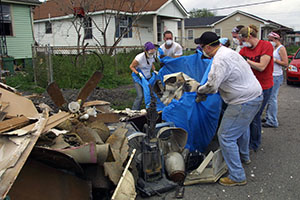 The recent hurricane to hit Texas, Harvey, reminds us of both the need for both disaster preparedness and to be ready to reassure our children and fellow community members that things can be okay again.
For our community members who have ADHD, or who have children diagnosed with ADHD, this can be difficult. The organization needed to be prepared for an emergency can be difficult for those with impaired executive functions. For those affected by ADHD and co-occurring conditions, including anxiety, it can be hard to feel safe or hopeful following a disaster—whether it's on the scale of a hurricane or a personal tragedy such as a house fire.
In addition to Hurricane Harvey, there have been many upsetting natural disasters and human-caused traumatic events in the past year. Many people are watching the weather, with at least another hurricane expected to make landfall in parts of Florida sometime in the coming week.
"The events we've witnessed are devastating and their many associated impacts may be felt for years to come," Rosemary K.M. Sword and Philip Zimbardo, PhD, wrote last year for Psychology Today. "But one day, this too shall pass. Life will get back to normal—maybe a new and different normal—but normalcy will surely return. There will always be some bad times mixed in with the good times for each of us personally and for our nation."
Be ready for an emergency and afterward
CHADD and The National Resource Center have visited the topic of coping with emergencies when your family is affected by ADHD. We compiled a list of previous articles and national resources that may be helpful for you and your family:
Additional resources:
It can be helpful to have a book in hand when talking with your children about something scary that has happened or an event they have experienced. Tara Haelle has compiled a list for your child or young client in 8 Books To Help Children Understand Natural Disasters And Cope With Anxiety, including:
Ways to help
You and your family may be far away from the disaster zone but you want to help. Many people experience secondary disaster stress and trauma symptoms even though they were not where the disaster occurred, but witnessed it on TV or through other media. For these people, one way to help address those symptoms is to help other people.
Donations are often needed, and cash donations are frequently the best way to get help quickly to other people through established charities. You might talk with your children about how they could earn extra money to donate or you might work with some friends or local clubs to sponsor fundraisers. Many school districts are organizing fund raising to help displaced children and families in Texas. You may choose to donate through a trusted community organization or your house of worship.
Charity Navigator has compiled a list of charities providing relief and services to people directly affected by Hurricane Harvey. You can view the list at:
Other charities providing assistance:
"The devastation caused by Hurricane Harvey prompts us to do what we can to help as soon as possible," H. Art Taylor, the president and CEO of BBB Wise Giving Alliance, tells Business Insider, "but donors need to be aware of some key cautions so that their generosity will get to those in need quickly."
The Council of Better Business Bureaus (BBB) keeps a listing of suspicious organizations at BBB Scam Tracker to help you make sure your donation goes to those who need your help the most.
Knowing what to do next
It is normal to need counseling following a disaster. Reach out to a therapist, mental health professional or your house of worship's minister to talk through your feelings. If your children are struggling, you can find help through their pediatrician and school district to identify appropriate mental health providers. For more, read Disaster, Trauma, and ADHD for suggestions on helping your children recover.
Has your family experienced an emergency or disaster? What did you do to help recover?
Hurricane Harvey has swept through Texas, leaving many families struggling to pick up the pieces. Families affected by ADHD have special concerns when it comes to preparing for an emergency and then coping with its effects afterward. We have compiled some resources to help your family be ready for when disaster occurs.