Start the New Year Right: Classroom Tips for Teachers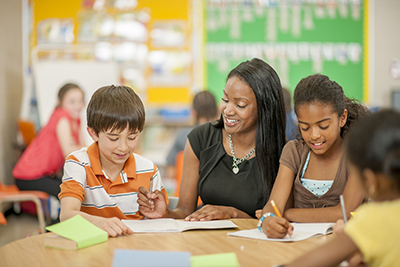 Pack up the menorahs, take down the gingerbread people, and sweep up the tinsel. The holiday season is now just a memory, and it's time to get back into gear after the winter break. Students may have gotten out of the learning mindset, and even your students without ADHD can have a tough time refocusing on schoolwork. What's a teacher to do? We talked with some classroom teachers for tips to help your students start the year off right.
Talk About the Break
"I always make sure I start Day 1 back with discussing their vacations," says Beth Ann Thornhill, an eighth grade science teacher at Raymond Cree Middle School in Palm Springs, California. "I make sure even the ones who did nothing during break get acknowledged as having time off and resting."
When teachers begin a learning unit (such as a math or social studies lesson) for the first time after the break, asking students to recall what they did last in that subject before the break provides a lively discussion and refreshes learning.
Get Organized
Sarah Neubold, Montgomery County, Maryland, Public School System's Fine Arts Content Specialist for Art, Theatre, and Dance suggests students write a 3-2-1 "ball drop" resolution list.
"Three things that they were really successful with in 2016; two things they would like to do better in 2017; and one incentive to help them get there," Ms. Neubold says helps students in three dimensions.
Students affected by ADHD can benefit from visual reminders to help them track assignments.
"Calendars and agendas are all 50 percent off right now," says Ms. Neubold. "But kids these days all have phones and apps that they could probably be using to help keep them organized." Have students discuss how their devices will help them do that.
Ring in the New Year
Lisa Hoy is a first grade teacher at Lampson Elementary in Orange, California. She does seasonal activities to get her young students involved.
"In first grade, we make school resolutions," she says. "I have them bring in 'baby new year' pictures (of themselves as babies). Then I post the photos and they have to guess who is who."
Embrace Fresh Starts
"I make a big deal out of how this is a great opportunity to start fresh and new and rededicate ourselves to doing our best," says Alison Thompson, a first grade teacher at Green Acres School in Rockville, Maryland. "We all make New Year's resolutions to that end. We also plan/run through the rest of the year's events together so they can get excited for all that's coming up. I do my calendar and time-telling work in math at this time of year, they all begin keeping personal planners or datebooks, and we make 'timelines of our lives' with one cute picture and one written memory for each year of each student's life."
Looking for more tips?
Check out the Tips for Teachers Video Series for suggestion on how to help your students affected by ADHD in the classroom.
What other suggestions do you have during this time of the year? Share them with our community.