Support for you: ADHD Awareness at the Local Level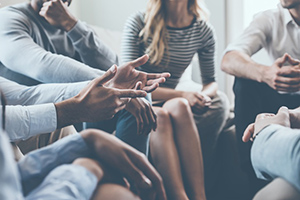 Thirty years ago, CHADD began in Florida as a group of parents and professionals grappled with the challenges of helping their children with ADHD be successful in school.
Today, CHADD has affiliated organizations that provide support groups throughout the United States, where parents and adults affected by ADHD can meet, share resources, and offer one another the kind of support that can only come from talking with someone who knows what ADHD is like.
"People benefit from hearing other people talk about what they experience day-to-day," says Patricia M. Hudak, co-chair of CHADD of Northern Virginia and DC. "That connection in talking to somebody else, having that exchange is a beautiful thing. They feel like they are not alone."
CHADD affiliates connect the ADHD community
There are 121 CHADD affiliate organizations in the United States and more than 9,000 members. These organizations vary from small gatherings to chapters that have multiple support groups for parents, spouses and partners, and adults.
"Our affiliate organizations are our 'boots on the ground,'" says Jantell Stone, CHADD's Director of Affiliate and Membership Services. She supports affiliate leaders (who work as volunteers) with resources and continuing training from CHADD and its National Resource Center on ADHD. "They provide the local support, and are willing to help others who have ADHD."
Many CHADD affiliate organizations have seen their memberships increase in the past couple of years as more families and adults seek information about ADHD and support in their local communities. Ms. Hudak of CHADD of Northern Virginia and DC and Jeremy Didier, group director of Kansas City's CHADD Chapter (ADHDKC), are among the affiliate leaders working to connect the members of their local ADHD communities to resources and to each other.
Providing ADHD support near Washington, DC
CHADD of Northern Virginia (NoVa) recently reorganized and extended its outreach into Washington, DC, addressing the ADHD communities of both areas. Board members made a plan for reaching out to the greater community and have seen success, as measured by a growing affiliate membership.
Ms. Hudak says the organization was able to connect with "several thousand people" in the past year through a local special education conference, an ADHD Awareness Month conference it sponsored, and by inviting local experts to speak at support group meetings. The organization was so successful in its efforts that the leadership is expanding its popular lecture series in the coming year.
"We've come together in a way where we have the common goal of being there for our people," Ms. Hudak says. "We were all determined that our ADHD Awareness Month conference last year was going to happen. We were determined to build a strong community. It's the determination, people working hard, and not giving up that helped us to be successful."
CHADD NoVa encompasses nine support groups in several communities. There are groups for parents, for adults, and for spouses and partners, along with one of only a few teen support groups in the CHADD network. Ms. Hudak praised her co-chair Pam Barton and the NoVa group leaders for their work to make support groups more available.
"We've got wonderful leaders of our support groups who have been doing this for years," she says. "The hours they put in and the enthusiasm they have, with the unwavering commitment they have to the ADHD community—without them, we wouldn't have the programs we need for a successful year."
NoVa will be hosting a local conference on Saturday, Oct. 28, at Commonwealth Academy in Alexandria, Virginia, titled ADHD and Screen Time: Turning Problems into Solutions as part of ADHD Awareness Month. The organization is presenting the conference along with the ADHD Resource Group of Northern Virginia. It is one of NoVa's many efforts to connect families with local ADHD resources.
NoVa hosts a Meetup page to connect members of the Northern Virginia and DC ADHD community. It boasts more than 900 "attentionally challenged" individuals and families.
"We're looking to start more support groups," Ms. Hudak says. "We've reached close to 700 people in the course of the year who are attending meetings."
ADHD in America's heartland
Jeremy Didier says Kansas City's CHADD Chapter (ADHDKC) is excited to host its ADHD Awareness Expo on Tuesday, Oct. 10. The third annual event is part of ADHDKC's efforts to connect community organizations that provide services for ADHD with families affected by ADHD. Ms. Didier says the organization expects more than 500 people to come to the event.
"One of the missions when we started this chapter was to have some way of letting people know that the resources are here," Ms. Didier says. "We encourage local businesses and organizations that offer support and resources for ADHD to come and make themselves known."
ADHDKC is in its fifth year and continues to see a steady growth, with up to 50 people attending its monthly meeting. Ms. Didier says ADHDKC's social media presence and its website have played a big role in helping the organization strengthen connections to local resources.
"We try to make as many resources available as we can—the resources provided by the NRC are invaluable. But for professional help at the local level, there is more need than there are professionals available," she says.
The Kansas City organization focuses on parents but includes the needs of adults in its programming. Ms. Didier says ADHDKC has been fortunate to have adult volunteers who are affected by ADHD and want to make the lives of the next generation of young people affected by ADHD easier than their lives were at those ages.
For parents, she says she has seen the relief and empowerment that comes from talking with other families affected by ADHD.
"I think the primary feeling is relief, that there are other people out there experiencing the same thing in their homes that you are experiencing in yours," Ms. Didier says. "It's incredible to know that this is what normal looks like for families with ADHD. Just knowing that you're not alone, and that it's normal for this type of household is huge for parents."
With success come the next steps: How to keep and grow community involvement. Attendance at meetings varies, she says, as some people only come when their families are coping with a crisis while others drop into meetings only occasionally. ADHDKC is pursuing new outreach efforts to local schools and ways to spread information and resources to more people.
"I'm excited because I've heard from people that they have found the help they need," Ms. Didier says. "People tell us how grateful they are that we're here, that we've connected them to the resources they need. That brings me joy."
Connecting with others
ADHD Awareness Month is a good opportunity to reach out for support and information when you or your family is affected by ADHD. Are you looking to make that connection? There are opportunities you can take advantage of to meet and learn from others affected by ADHD:
Join a social media support group. HealthUnlocked hosts Adult ADHD Support and ADHD Parents Together. Facebook and Meetup both host online gatherings of people affected by ADHD.
Look for a local ADHD support group. You can check with your child's health care provider or the local community medical center for possible support groups in your community.
If you can't find an ADHD support group in your area, you can start one.
Where have you found your community support?
You don't have to go it alone when your family is affected by ADHD. Joining a local ADHD group is an important way to find resources and support that can make a difference in your life. CHADD affiliated groups can be a great place to find what you need.