'Tis the Season for Spring Cleaning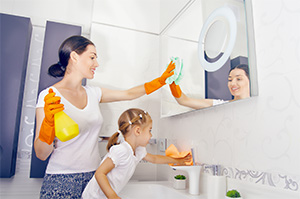 Spring is the traditional season for cleaning up and decluttering your home. While recent bestsellers talk about the joy of tidying up, many people with ADHD find getting and staying organized a real challenge.
Clutter builds up quickly, and if you're faced with piles and piles of belongings, the task can be overwhelming. Instead of trying to tackle the whole job at once, try to organize a smaller section―a room, a closet or even just a single pile. Here's one strategy for getting started and into the cleaning mood.
Play the Cleaning Game
Many people with ADHD are easily distracted, especially when they're faced with boring or repetitive tasks. If you inject a little fun into cleaning, it can be more enjoyable and less of a chore. So make it a game, with rules and a prize.
Decide on what small section you're going to clean. State your specific goal. For instance, "I will sort all the bills in my in box" or "I will arrange the coats in the closet."
Set yourself a time limit (10, 15, or 30 minutes) and decide on the prize for finishing within the allotted time. When you are racing against the clock, you're less likely to get distracted. Having a prize to win will also help you keep on task. The reward doesn't have to be a big thing, just something to motivate you, such as a cookie or watching your favorite television show.
Make it even more fun by playing lively music, like they do on television game shows.
Want some more tips to get started this spring? Visit Organization and Time Management.