What Response to Intervention Can Do For Your Child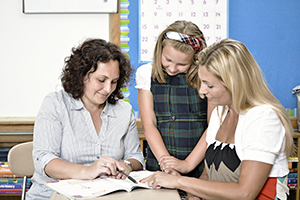 Did your child's teacher talk with you about a process called response to intervention when you went in for parent-teacher conferences last year? Many parents are told that the school wants to try response to intervention, or RTI, before taking the steps necessary to have a 504 Plan or Individualized Education Plan, or IEP, put in place. The reality is, while RTI can be very helpful, a parent can request the academic evaluation for a 504 Plan or an IEP can be started at any point, including during summer vacation.
"This is a source of confusion for a lot of school personnel and a lot of parents," says Ann Schulte, PhD, during the Ask the Expert webcast AtE School Interventions: Three-Tier Models & ADHD.
RTI is a process of presenting supports to a classroom of students in general and then adding additional support to students who need the assistance. Support, or intervention, is stepped up as needed until the few students in a class who have learning disabilities or other challenges such as the ones caused by ADHD, are identified. It was not intended to replace the evaluation process for academic accommodations.
"It was meant to be a means of identifying learning disabilities in one of the iterations of Individuals with Disabilities Education Act (IDEA)," Dr. Schulte says. "It's taken different forms throughout the country, depending on the state and the individual school districts."
RTI has three tiers, or levels of intervention, she says. Interventions are to be evidence-based and can address both academic and behavioral concerns for a child. Progress is continuously monitored so adjustments can be made based on the student's needs. RTI is not be used by school administration to delay or deny an evaluation for an academic program when a child has ADHD. Parents do not need to wait for all of the tiers of RTI to be completed before they request an evaluation for their child.
Learn more about RTI from Dr. Schulte or read Response to Intervention.