What You Need to Know About Substance Abuse and ADHD Treatment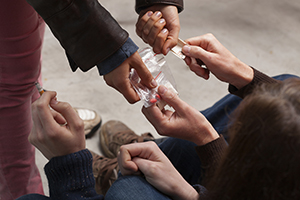 Some parents worry that their children may be more likely to abuse drugs or alcohol if they take stimulant medications for their ADHD. A clinical report by the American Academy of Pediatrics looked into this common parental concern. The report found that although children and young people affected by ADHD have an increased risk of developing a substance abuse disorder, that risk is lowered by treatment that includes stimulant medication.
In reviewing completed research, the clinical report authors describe an 85 percent drop in the risk of later developing a substance abuse disorder in individuals with ADHD who received medication treatment, when compared to those who did not have medication management. Children who were treated with stimulant medication at an earlier age were the least likely to develop a substance abuse disorder. Behavior therapy, it noted, also conveyed some protective influence against later substance abuse. Behavior therapy through parent training is the recommended treatment for young children under the age of five; behavior therapy and medication management are recommended for elementary-aged children and older.
The report summarizes current theories for the potential causes of substance abuse among children and young adults affected by ADHD. These possible causes include symptoms of ADHD such as impulsivity and poor judgment and a possible biological vulnerability to developing an addiction related to ADHD.
However, the report also noted that while stimulant medication seemed to reduce the risk of a young person with ADHD developing a substance abuse disorder, stimulant medications also present a concern for abuse. To reduce that risk, the report authors encourage primary care clinicians and specialists to screen patients for existing signs of substance use in teens and young adults and to provide guidance to their patients on the proper use of prescribed medications. For some young people, longer-acting stimulant medications or non-stimulant medications may be more appropriate as part of a treatment plan.
What does this mean for parents? Stimulant medications have been shown to reduce the risk of a children and young adults using drugs or alcohol or developing an addiction. However, these medications should be carefully monitored to prevent accidental or intentional misuse.
Read more on Substance Abuse and ADHD and Medication Abuse and Diversion.