Why Choose Behavior Therapy for Young Children with ADHD?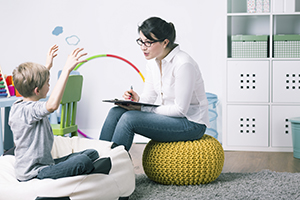 Q: The recent CDC Vital Signs report that I have been reading about says young children should have behavior therapy before beginning medication for ADHD. But if medication has been shown to be effective for ADHD, why should we bother with behavior therapy for my son? Why not start him on medication while he's in preschool?
– Dad in Louisiana
A: Medication can be helpful in controlling an older child's ADHD symptoms, but is effective only when taken as prescribed. Behavior therapy benefits the child continuously and can help improve family relationships in the process. It also does not have the potential for side-effects, as medication can.
The recommended treatment for preschool-aged children diagnosed with ADHD is behavior therapy that includes parent training. A licensed therapist works with parents to develop skills to help improve the behavior of their young child and decrease symptoms. Research has shown that this approach works as well as medication. The benefits of behavior therapy also can last for years, even if the child later has medication added to the treatment plan. This benefit extends into elementary school and can help improve learning later.
"This kind of therapy has two parts," says Dr. Georgina Peacock, director of the CDC's Division of Human Development and Disability. "It strengthens the relationship between the parent and child, and it gives parents more effective tools for helping their child learn positive behaviors. How does behavior therapy work? Behavior therapy is like having your own personal coach for dealing with challenging behaviors. A behavior therapist teaches parents how to provide positive attention and set and communicate rules.
"Sometimes a therapist works directly with a parent and child," Dr. Peacock says. "Other times, the therapist meets with a group of parents. Parents will go home and practice techniques and then go back to the therapist to talk about what worked and what didn't, and learn new skills to practice again. Parents who use the strategies report their children learn to better control their own behavior, which helps the child at school, at home, and in the child's relationships with other people. It takes work, time, and effort, but the benefits can be lifelong."
You should talk with your child's health care provider and ask about behavior therapy programs near you. The provider can also help you evaluate the effectiveness of the behavior therapy and follow your child's progress as he grows. Adjustments can be made to your son's treatment plan as needed.
Learn more about Behavior Therapy and Preschoolers.