Yoga for ADHD? Studies Show It Can Be Helpful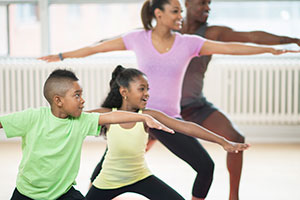 Yoga is all about slowing down, breathing deeply, holding poses, stretching the body, and focusing. At first glance, it might not seem like the best kind of physical activity for children diagnosed with ADHD. But researchers in several studies are showing that practicing yoga can have a positive effect on kids with ADHD, even after they step off the mat.
Though the studies were all fairly small, each one found that when yoga is done regularly—usually twice a week—it can help decrease some of the symptoms of ADHD. Researchers noted changes in the children's ability to pay attention and improve their adaptive skills in the classroom, as well as get along with other children. One of the things that makes yoga work is its emphasis on "mindfulness." That's a term that is used a lot, and it basically means being focused and present to whatever you are doing in that moment. It's the idea at the core of most yoga practices, and it can make a difference to people with ADHD.
"ADHD is a very complex medical condition, and mindfulness helps address it just by looking at the bigger picture of managing stress and well-being and building compassionate support," developmental-behavioral pediatrician Mark Bertin, MD, tells viewers in Ask the Expert: Mindfulness and Parenting a Child with ADHD. "Life experience itself remaps our brain, and with mindfulness at any point in life—all the way until you're a senior citizen—you can start practicing something like this and hopefully see benefits in daily life."
Starting a new habit
No special equipment is needed to practice yoga—a mat is great and can help keep hands and feet from slipping, but it's not essential. A quiet space and clothing that will allow your child to move are enough. It can be done at home, in a yoga studio, or in the classroom. There are plenty of free online yoga videos that are geared toward younger and older children, as well as videos aimed specifically at children diagnosed with ADHD. Look for one that is age appropriate (a middle or high school student isn't likely to want to join in a class that shows only five-year-olds), led by an instructor your child finds engaging. It's best to start with a shorter video and then, when your child understands the basics of yoga and feels ready, to move on to something a little longer. But even five or six minutes of focusing on breathing and poses can make a difference in his or her day.
And it's not just kids who might want to add a little yoga to their lives—parents of children with ADHD who started practicing themselves saw benefits too. Researchers observed that practicing mindfulness regularly helped parents respond to their children with ADHD in a more calm and balanced way. At the same time, parents were able to model what it means to make an effort to change one's behavior, something their children responded to. Plus, researchers found that with both parents and children practicing yoga at the same time—even if not together—they're more likely to reinforce each other's newfound habit of practicing mindfulness.
Looking for more?
Join the discussion: Do you practice yoga with your family or has another sport been a good choice for your family?