Annual ADHD Conference is 'Better Together'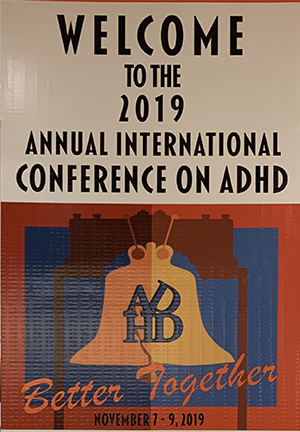 The Annual International Conference on ADHD kicked off on Wednesday, November 6, in Philadelphia, Pennsylvania. It brought together 1,100 members of the ADHD community from across the country and around the world.
The annual conference is the world's largest gathering of ADHD professionals and individuals and families affected by ADHD. This year's conference was at the Philadelphia Marriott Downtown.
"Our theme of Better Together says it all," the conference organizers said. "We strongly believe that our conference (and everyone impacted by ADHD) is better off when adults with ADHD, their romantic partners, parents of kids with ADHD, clinicians of all kinds, coaches, organizers, educators, and advocates gather together to learn from each other."
ADHD Awareness Day in Philadelphia
As part of this year's conference, the Philadelphia City Council proclaimed Thursday, Nov. 7, 2019, as ADHD Awareness Day. Councilmember Derek S. Green presented the proclamation during the opening plenary session.
The work of affiliates Philadelphia CHADD, Chester County/Mainline CHADD, and BuxMont CHADD in supporting the families of Philadelphia and Pennsylvania who are affected by ADHD was recognized by the city council.
"We honor the work of CHADD and its local affiliate Philadelphia CHADD in providing families with tools, knowledge, and support to help raise children with ADHD," Mr. Green said, reading from the proclamation.
Opportunities to learn from the experts
This year's conference featured researchers and ADHD professionals as keynote speakers and session presenters. Several well-known authors spoke, along with podcast and blogging celebrities.
"The always entertaining and insightful Tony Rostain, MD, was our opening keynote speaker," organizers said. "Our second keynote featured Ross Greene, PhD, whose collaborative model has changed how clinicians, educators, and parents think about dealing with difficult situations."
Topics included Best Practices for Managing Adult ADHD, Unlocking Major Barriers for Success for Students with ADHD, Supporting Healthy Lifestyles with ADHD, Strategies for the Transition to College for Students with ADHD, Advocating for Children with ADHD in the School System, Underdiagnosis of Girls and Women with ADHD, and many more.
A popular tradition continues
The popular talent show was on Friday, November 8. Individuals and groups  shared their talents and skits during the show. This is a tradition begun by ADDA and it has become a major highlight of the conference.
"The talent show was such a hit last year that it went way past its scheduled ending time," organizers said. "This was a fitting complement to the day's sessions."
Three organizations—one great conference
This year's conference was hosted by CHADD, along with the Attention Deficit Disorder Association and the ADHD Coaches Organization. CHADD, ADDA, ACO are the leading nonprofit organizations serving the ADHD community.
Get the details on this year's conference:
Join the discussion: Are you at this year's conference? What are you looking forward to at conference?