CHADD Highlights the Most Common Children's Mental Health Condition for Mental Health Awareness Month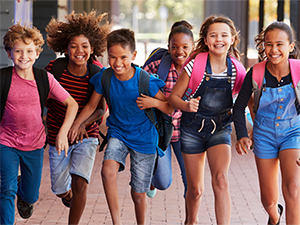 Many people might be surprised to learn ADHD is the most common neuropsychiatric disorder in children and among the most common in adults. ADHD affects 17 million individuals of every age, gender, IQ, ethnicity, religion, and socioeconomic background across the United States. As we mark Mental Health Awareness Month in May, CHADD―the leading nonprofit organization providing support, training, education, and advocacy for the ADHD community―aims to build awareness regarding the prevalence of ADHD, and the critical need for proper diagnosis and treatment by trained clinicians.
ADHD affects more than ten percent of school-age children and more than four percent of adults in the US. This common disorder is characterized by a persistent pattern of inappropriate levels of inattention, impulsivity, and hyperactivity in varying combinations. Presentations can be mild, moderate, or severe.
Without proper identification, diagnosis, and treatment, ADHD can have potentially devastating consequences, including school failure, job failure, family stress and disruption, depression, relationship problems, substance use issues, delinquency, accidental injuries, legal difficulties, and reduced life expectancy. ADHD is highly manageable with an individualized multimodal treatment approach that can include behavioral interventions, parent and patient training, educational and workplace support, and medication.
As home to the National Resource Center on ADHD, funded by the US Centers for Disease Control and Prevention, CHADD shares the following considerations for individuals who suspect they or a loved one might have ADHD and are seeking a proper evaluation and subsequent treatment plan:
Who conducts the evaluation matters. To properly evaluate any child or adult for ADHD, identifying a trained healthcare provider is essential. There are several types of professionals who can diagnose ADHD, including clinical psychologists, clinical social workers, nurse practitioners, neurologists, psychiatrists, developmental pediatricians, and general pediatricians. Look for a provider who is an expert in evaluating and treating ADHD. You can ask the provider if they have received ADHD training, how long they have provided care for patients with ADHD, and how many patients with ADHD they treat in a given year. This will help ensure that you or your child receives care from an experienced ADHD professional.
A proper evaluation takes time. A comprehensive ADHD assessment is an involved process. For a child or adolescent, an evaluation typically requires one or more visits, each one approximately one or two hours in length. This allows for a thorough ADHD evaluation, including the identification of potential coexisting conditions or other reasons for behavioral concerns. Evaluation for a child should draw information from multiple sources, including parents, other caregivers, teachers/school records, or daycare providers, including the use of standardized rating scales. For adults, diagnosis typically takes between one and a half to three hours and includes a detailed history of past and current functioning, with additional information obtained from family members or significant others who know that person well. Some practitioners will also conduct tests for cognitive ability and academic achievement to rule out a possible learning disability. For adults, particularly for college students, it is helpful to include a parent or other close family member who can talk about the adult's childhood.
ADHD medication should be monitored regularly. If medication has been prescribed by a healthcare provider, the prescriber should require ongoing visits to monitor response, including therapeutic effects and any side effects. The prescriber should periodically monitor height (for a child), weight and blood pressure. Parents of children diagnosed with ADHD should ask the healthcare provider whether they offer parent education, including how to properly administer ADHD medication.
ADHD typically requires a multimodal approach to treatment. A proper ADHD evaluation leads to the development of an individualized, multimodal treatment approach, which may include medication, behavioral therapy, and support at home, at school, on campus, and at work. Behavioral therapy for ADHD should be delivered by a licensed therapist, such as a psychologist, social worker, or mental health counselor. For a child, therapy will almost always involve the parent with or without the child and will focus on modifying behaviors using specific parenting strategies shown to be effective. Adults may benefit from treatment strategies similar to those utilized for children. Some adults have found that working with an ADHD coach is a helpful addition to their treatment plan. ADHD-trained clinicians skilled in cognitive behavioral therapy can also help adults diagnosed with ADHD learn new techniques to manage this common disorder.
ADHD often does not occur alone. Research shows that over two-thirds of individuals with ADHD have one or more coexisting conditions. The most common include depression, anxiety disorders, learning disabilities, and substance use disorders. Many of these conditions have symptoms that can mimic ADHD and may in fact be mistaken for ADHD. A comprehensive ADHD evaluation includes screening for coexisting conditions. When one or more coexisting conditions are present alongside ADHD, it is essential that all are conditions are diagnosed and treated. Failure to treat coexisting conditions often leads to failure in treating ADHD.
To learn more about ADHD, including how to recognize the symptoms and where to turn for evaluation, treatment, and guidance, please visit CHADD.org, contact CHADD at 310-306-7070, or call the CHADD Helpline, Monday through Friday, from 1-5 PM, at 866-200-8098.
Learn more about diagnosis and treatment:
• About ADHD
• For Adults
• For Parents & Caregivers
• For Educators
Join the discussion: How can we better share information about ADHD?