Don't Be The 'Bad Guy' When Getting Kids Organized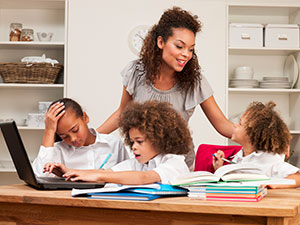 Ask the Expert:
Past Procrastination: Get Your Kids Organized, Focused and Motivated
…without Being the Bad Guy
Procrastination isn't a character flaw! Instead, it can be a behavior that you and your child can improve together.
Author Ann Dolin understands that life for families affected by ADHD can sometimes be tumultuous. Children procrastinate, they have trouble getting and staying motivated. Families cope with disorganized bedrooms and book bags. What can you do to help your child?
Join us for this webinar to learn:
the cause of ADHD-related procrastination

to create habits that focus on "good behavior"

tools for better organization

ideas for addressing motivation and helping your child get "unstuck"
Ann Dolin, MEd, has more than 20 years of teaching, tutoring, and consulting experience. In 1998 she founded Educational Connections, a tutoring company which has worked with over 9,000 students in the Washington, DC, area. Ms. Dolin is an expert on academics and ADHD, and was a board member of the former Washington, DC, chapter of CHADD. She has also spoken several times at the annual CHADD conference and has been featured in The Washington Post and Women's World Magazine.
Her book, Homework Made Simple – Tips, Tools, and Solutions for Stress-Free Homework, won the Independent Book Publishers Association 2011 Parenting Book of the Year Award and was a finalist for the Foreword Book Review's Parenting Book of the Year Award.