Don't Let ADHD Keep You From Having a Good Summer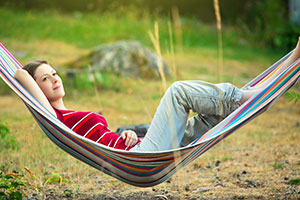 Summertime, and the livin' is easy…or is it? One would think that a slower pace at work, while bosses and coworkers are taking their vacations or enjoying long weekends at the beach, would be just what the doctor ordered for the stressed-out adult with ADHD. Less chaos and office politics to deal with, a quieter environment, a slower pace, right? But for many, transitioning into the slow, quiet summer days at work or taking off on family vacations doesn't always equate with "easy" and often causes more anxiety, not less. How can that be? There are a number of reasons for this.
As an adult with ADHD, you may need the energy from those around you to help you stay charged, attentive and on track. It can be extremely difficult to stay focused on work-related projects and meet important deadlines without the routine and stimulus of having colleagues around you. Knowing your boss or supervisor is in close proximity and/ or checking on your progress can help provide the accountability you need to keep plugging away until the job is done. But when the boss is away, the mice will play. Your ADHD brain needs structure and external expectations to hold you steady.
Continue reading
Breezing into Summer with ADHD
by Terry Matlen, MSW, ACSW in
Attention
magazine to learn how to build the structure that helps to build a good summer.