Find New Ways to Celebrate Your Teen's Graduation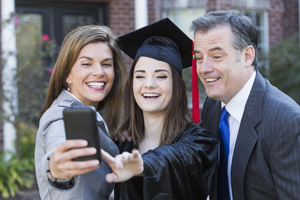 For teens in their senior year of high school, the traditional rites of passage, including sports championships, proms, theatre performances, and graduation, have been abruptly canceled. The COVID-19 pandemic has closed school campuses and caused all activities to be suspended.
Young people with ADHD, along with their peers, looked forward to these events throughout their high school years. Unlike their peers, most struggled with academics due to their ADHD. Many experienced ups and downs with friends and family as they coped with symptoms that interfered with their relationships. Walking across the graduation stage would be a hard-won victory, and for them, not having that chance can feel devastating.
Jessica Bennett is a counselor at Bedford High School in New Hampshire. Her high school students are among the many who will not have traditional graduation experiences.
"This is a huge transition time for them," she says, "and they're missing out on these really important things in their lives."
Reaching the graduation mark
For families that work with their children's schools for academic accommodations related to ADHD, it can sometimes seem like graduation is far off. A few worry that day might not come if their child becomes so frustrated that she leaves school early. Making it to that milestone is an accomplishment for students and parents.
"I would be okay with any type of effort that they put forth into celebrating the kids," says the mother of a high school senior near Chicago, Illinois. Her daughter's school district is planning a virtual graduation ceremony instead of the traditional event.
For the students themselves, missing graduation events is missing the last time to be students together. They are also missing out on traditions such as class dinners, proms, and senior days.
"You spent your life with these people all the way from one year to literally 12 years," says a high school student near Cedar Rapids, Iowa. "Knowing them for your entire life, you were all looking forward to this one moment and, right at the finish line, it gets taken away from you."
Celebrating your student's accomplishments
The season of the novel coronavirus does not mean your teen's accomplishments must go unrecognized. Marking this moment of life is still important.
How families choose to celebrate those accomplishments should be personal and meet both the young adult's needs and the situation at hand.
Terrill Bravender, MD, MPH, of Michigan Medicine CS Mott Children's Hospital, encourages parents and families to be both empathetic and creative this graduation season.
"Anything that minimizes what teens are feeling is not helpful," he says. He suggests using video conferencing platforms as one way to help teens have celebrations and connect with their friends at this time.
"Any opportunity to find community in a virtual space is valuable," says Dr. Bravender. "The good news is that young people are already very comfortable in the virtual world through social media, so this won't feel as foreign to them as it may feel for their families.
In some communities, senior car parades, with families following social distancing guidelines, are popular. Across the country school districts are hosting online graduation ceremonies and sending diplomas home with the idea that parents will present them to students.
Many families are planning celebrations for later in the summer when experts believe risks relate to COVID-19 will be lower. Parents can encourage their teens to take an active role in creating the event as part of the graduation process.
"Whether the graduation is canceled or live-streamed, you can celebrate at a later date or throw a streaming party for the big day," writes Carter Barnhart, the chief experience officer for Newport Academy. "Order some decorations online, pick up a special cake from your local bakery (they need your support right now) and get grandparents and friends to dial in."
More about ADHD and high school:
Join the discussion: How are you celebrating your high school senior this year?