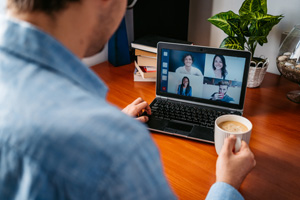 As individuals and families follow social distancing guidelines intended to reduce the transmission of COVID-19, video conferencing programs and websites have suddenly become the way to visit with other people.
When you have ADHD, it's important to have the support of family members and friends. For some, regular meetings with counselors, coaches, and professional organizers are also necessary. The ADHD community, like many others, is finding that support online and with video conferencing.
"While video meetings don't give you quite the same experience as seeing someone in real life, it's still an incredibly powerful tool for connection when you can't be in the same room as someone else," says the support staff at Ring Central, a video conferencing provider.
Socializing online when you have ADHD
There are many ways to socialize online and find support for those who have ADHD. Online communities are available, including CHADD's Health Unlocked ADHD Parents Together and Adult ADHD Support.
Some CHADD chapters have begun hosting online meetings through video conferencing (check with your local CHADD coordinator to find out if the local chapter is doing this). Many other social clubs and organizations have also moved their meetings to video conferencing.
People have also been using these tools to set up coffee chats and get-togethers with friends.
"I've been invited to live Instagram streams, Zoom karaoke, Zoom dance parties, Zoom drinking parties, Zoom brunches, to numerous Facetime video calls, Google Hangouts, Skype digital coffees, Netflix Party video streams, the list goes on," says Caroline Sinders. "Video conferencing and seeing the reactions of my friends and loved ones makes this time slightly easier."
One of the benefits of using a video conferencing tool is the chance to "body double" or spend time together in a "virtual space" while working on separate projects, something many people with ADHD find helpful.
The ability to set time limits is another benefit of these programs. A popular platform allows for 40 minutes of conferencing in its free version. ADHD often makes it difficult to transition from one event to the next. Having the built-in timer can allow for time together but help prevent someone from "getting stuck" and unable to transition away from the session.
Maintaining connection
Often adults with ADHD say they feel lonely. The disorder's symptoms interfere with friendships and the smooth functioning of relationships. Social distancing can increase those feelings since it's not possible to physically visit with others.
"People are yearning for connection right now since we can't have real, physical human touch," says Ms. Sinders. "Intimacy is being craved. This reliance and shift to video conferencing makes sense."
To maintain those close connections—or even nurture new connections—you may want to explore some of the free or low-cost video conferencing options or messaging programs provided by email. Or you can set up a time with a group of people for a conference call on your phone. You can make plans by email or social media and then share the connection link and password or phone number with the people who would like to join you.
Ideas on staying connected
• More Time Together Can Be a Mixed Blessing
• Screen Time & COVID-19: How to Support Teens with ADHD
• Staying in Touch With Video Chat
• The 10 Best Free Video Conferencing Tools to Choose from
Stay connected: How are you keeping in touch with family and friends?