Help Your New Grad Find That First Apartment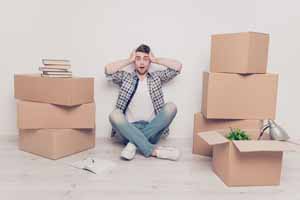 At the close of the school year, many new grads look for their first independent home. Is your young adult with ADHD ready for independent living? Is he starting a career following high school or college graduation? ADHD symptoms can effect how young adults manage their homes when they first live independently.
Finding that first home—usually an apartment—can take effort coaching for the young adult with ADHD. Parents and family members can offer needed support during this significant transition.
Things for the first-time house hunter to consider
Will your new graduate live in his hometown near family or is he moving away for employment? How about money management when it comes to rent, bills, loans, and daily expenses? Impulsivity combined with the largest paycheck your young adult has ever earned can create an unfortunate situation if the necessities of life aren't paid first.
Where does your young adult plan to live? Does he have his own transportation to work, or will he carpool or take public transportation? These factors shape what his budget will look like in action.
And then there are questions about ADHD symptoms and daily life: Can he get up on his own in the morning? Keep a neat home? Shop for and cook healthy meals? Maintain his treatment plan without family support?
How your young adult addresses these questions may help determine where he lives, how he structures his day, and meets his obligations. You and your soon-to-be independent child might brainstorm new support structures that help him manage symptoms while living independently. Checking out neighborhoods together may also help him make plans.
"If it's hard for you to get up in the morning, you probably don't want to have an hour commute," says clinical psychologist Carey Heller, PsyD. He also suggests checking out conveniences, such as the nearest grocery store and shopping centers, especially if he won't have a car.
Encourage him to consider how much of his paycheck rent will consume first, rather than impulsively signing a lease for his favorite apartment. Experts recommend spending no more than a third of one's monthly income after taxes on housing. Lifestyle and other major expenses, such as student or car loans, can affect how much money is available for rent or house payments.
Your young adult should prepare by adding up loans, projected grocery and utility bills, and any other necessary expenses. He can then subtract these estimated expenses for his estimated money income. The numbers won't be precise, but should give him a pretty good idea on how much to spend on housing.
Better together? Finding a roommate
Living with a friend is one way to reduce some expenses, but can create another set of challenges. A shared living situation can cause one roommate to take on a "parenting" role to support the one who has ADHD. Your young adult needs to incorporate coping skills to make sure symptoms don't trip him up into old patterns where others might have acted as his external executive functions. On the other hand, having a living partner can help provide a healthy sense of accountability to help him stay on track.
"It could lead to more conflicts, especially around messes," says Dr. Heller, "but it can also help you be more organized, because someone else is holding you accountable. Or if [a roommate] goes to bed at a reasonable hour, maybe it would keep him on more of a set schedule."
Dr. Heller adds there's no need to share for your young adult to share his ADHD diagnosis with potential roommates. Instead, the focus should be on sharing information about the things that matter whenever people live together: dishes in the sink overnight, whether it's okay to have friends over on weeknights, how to split the rent.
Your new grad should have a plan for how to secure his medication to prevent theft or diversion (when someone takes a medication prescribed for someone else). He must understand that sharing his medication is illegal and dangerous. Many people choose to keep their treatment plans private and lock their medications in their own room, rather than in shared space, like the kitchen.
Budgeting and bill paying
Your young adult needs to set up a budget and a calendar to plan for his expenses. The Money Management Schedule can help with the basics. If there is a roommate, they need to discuss how to fairly divide rent and expenses.
Dr. Heller suggests a separate bank account just for bills, including housing. Automatic bill payments mean not having to remember to pay on time. Encourage your young adult to take advantage of the support that direct deposit and automatic bill paying can offer.
Discuss, also, what is meant by the "ADHD tax" and how it can affect his budget. Short-term memory deficits often cause people to forget to pay bills on time and end up paying interest or late fees. Forgetting which side of the street to park on can result in a ticket. Impulsive or emotional purchases can quickly drain a bank account. All of these, and other hidden costs related to ADHD symptoms, can add up to a financial burden.
Getting ready for moving day
Have your young adult start calling utility providers as soon as he knows his move-in day. Roommates will want to be sure to discuss utility payments when setting up a budget.
Your new grad—and now new renter—will sign at least one lease agreement. Professional organizer Susan Pinsky encourages having a small desk or table with a drawer to stash bill-paying materials and lease agreements. Even if most bills are paid electronically, there are usually a few things that require paper.
Keeping belongings, budgeting, and home care simple is the best option in a first home, says Ms. Pinsky.
"Reduction, reduction, reduction," she repeats. "Just because you're moving into a new place doesn't mean you need to fill the closets."
Need some tools to get started?
What else do young adults need to know when looking for their first independent home?