Holiday Shopping for the Giver with ADHD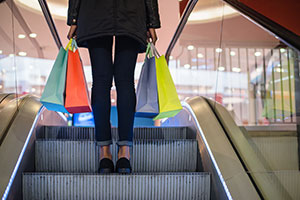 Two months from today is Christmas, perhaps the biggest gift-giving day of the year. Are you ready to get ready to go gift shopping?
Fall and winter holidays, birthdays, anniversaries, graduations, new babies, new houses—there are plenty of opportunities coming up to give gifts to friends and family members. But when you have ADHD, the idea of choosing the "perfect" gift can be overwhelming. If you dread the thought of all the time and energy you will spend buying gifts, take heart. You are definitely not alone. Here are a few tips you can use to make gift giving better.
Gift giving is a project
"Treat gift giving like a project," says Marla Cummins, an ADHD coach and productivity consultant. She is the author of the ebook ADD to Done: Beyond Stuck, Procrastination and Overwhelm.
"It's a big project," she says, "and a lot of adults with ADHD get stuck thinking, 'I've got to get a gift,' 'I have to think about getting a gift,' or 'I should start thinking about getting a gift.'"
Let your gift ideas percolate a while before acting on them, Ms. Cummins suggests.
"Set aside time well in advance to plant the seeds and let things simmer," she says. "That way, when you're out walking the dog or doing things around the house, things will pop to mind."
Make your gift-giving plan
Write your to-do list first, Ms. Cummins suggests. Write down the names of everyone on your gift list. Choose whichever format is best for you, whether that's a piece of paper, an app, a notes program on your phone, or something else that works for you, and keep the list somewhere that you can easily find it.
Consider your budget. How much do you have to spend? If it's a holiday when you'll do all your gift giving at one time, start with your total amount available to spend without going into debt or using credit cards. That is your upper limit and the amount you have to stay within for your budget. If you are planning to make some or all of your gifts yourself, include how much money you plan to spend on supplies when budgeting within your upper limit.
Calculate a per-person spending limit and make sure the total amount is under your upper limit.
Write down ideas that fit your budget for gifts you want to buy or make for each person on your list. That can sometimes be difficult, especially if you're someone who gets ideas by wandering around stores or scrolling through Etsy or Amazon, other favorite websites. But write down any ideas you do have in mind, just as a reference for later.
And if you're not sure what someone might like? Ms. Cummins encourages you to ask the person directly, or someone who knows him or her well. It's satisfying to choose the "perfect gift," but there's no shame in asking for suggestions.
Time to go shopping
Now you're ready to fill your shopping cart with holiday treasures.
"It's better to set aside a little bit of time and say okay, I'm going to spend maybe 45 minutes at several sittings," Ms. Cummins says. "Otherwise, what happens is you could go into hyperfocus, and then you get so focused on one gift" that you spend way too long searching for it. Or, you might get so distracted you end up buying nothing. Ms. Cummins is a fan of online shopping for that very reason—it's easier to get on the computer and type in exactly what you're looking for, find it, and buy it.
But anyone who has ever gone shopping online knows how easy it can be to go down a rabbit hole of interesting choices and pop-up ads.
That's when Ms. Cummins says you need to rely on your list—and a timer can help. Use your watch or your phone's timer, or find one online. Set your timer and shop for 25 minutes and then take a break for 25 minutes. It's the same in a brick-and-mortar store—take a break outside the store to rest and review your list.
"Just say to yourself, 'Okay, for 25 minutes, 45 minutes, whatever, I'm going to go in with this objective. I'm looking for a present for Uncle Bob,'" says Ms. Cummins. "Try to set some limits so you're not just thinking, 'I'm going to go look for gifts,' because that gets really overwhelming."
Getting it done
Buyer's remorse is common, especially among people with ADHD, "because there's always more, better, different."
"But remember what the objective is: it's just to let someone know that you're thinking of them," Ms. Cummins advises. Ask for a gift receipt and include it with each present. It won't show the price but can be used if the person decides to exchange or return the item.
Keep the spirit of the holiday season in mind and let that be your guide. "It's important to shut down the need to get the perfect gift. If you think enough in advance, you'll probably—for most people—be able to get something that you think they would really like," she says. And if all else fails, you can never go wrong with a gift card.
Looking for more?
Join the discussion: Do you prefer to do holiday shopping online or in stores?