I'm Not Ashamed of My ADHD, Says Olympian Biles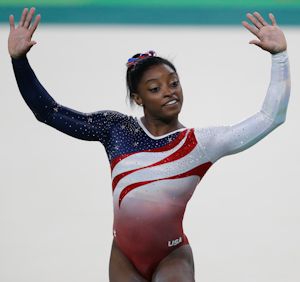 When computer hackers revealed Olympic gold medalist Simone Biles had tested positive for methylphenidate (Ritalin), she was upfront and unabashed about her diagnosis.
"I have ADHD, and I have taken medicine for it since I was a kid," she writes in a Facebook post to her fans. "Having ADHD, and taking medicine for it, is nothing to be ashamed of [and] nothing that I'm afraid to let people know."
The president of USA Gymnastics supported her with a statement that Ms. Biles received therapeutic use exemptions for her prescription medications from the International Gymnastics Federation, the US Olympic Committee, and the US and World Anti-Doping Associations, and there was no violation.
Ms. Biles won four gold medals and one bronze medal at the Rio 2016 Olympic Games this summer. She had previously chosen not to disclose her ADHD but did so earlier this week because her medical information, along with those of other top Team USA Olympians, was published online without her consent.
Her situation is a familiar concern for many people who have decided to keep their ADHD diagnosis to themselves, says Matt Cohen, JD, a member of CHADD's Public Policy Committee.
"People have the right to make their own decision about the privacy they maintain and to what degree," Mr. Cohen says.
It can become necessary to discuss your diagnosis when someone else shares your information without your consent, just as Ms. Biles experienced. Mr. Cohen says that it's not very often, however, that another person will reveal someone's ADHD diagnosis, either at work or among friends.
"I suspect that it's relatively infrequent [for someone else to disclose]," he says. "I deal with many people with ADHD. I get a lot of people who tell me their stories, and the circumstances where there are unwanted disclosures are relatively rare. But the potential consequences can be so great (for the employee) that it can be invasive and damaging to the person involved."
If a colleague discloses your diagnosis, Mr. Cohen said addressing it directly is often helpful. This may be with your supervisor or human resources manager. If it's possible, talking with the colleague about the disclosure can bring a positive resolution since most people don't intentionally disclose to cause harm. However, even an accidental disclosure can have negative results.
"I think an employee has a difficult situation when that happens," Mr. Cohen says. "Do they ignore it? Do they talk to their employer to resolve it? Do they take it to the person and try to resolve it? If it leads to you being stigmatize or discriminated against, that leads to a hostile environment," he says. "The employer needs to take action in this case, or the employee may have legal grounds for action. There are very good protections for employees on paper. But in daily life, once the information is out there, people may find ways to harass someone that you can't prove are discriminatory."
Mr. Cohen says his experience has been that most people voluntarily disclose their diagnosis to the human resources department or their supervisor and have good experiences, especially when it comes to receiving workplace accommodations to enable them to be successful employees. However, he adds, it is a risk for some employees to make that disclosure and so they need to carefully consider the possible consequences.
"I have lots of respect for the desire for privacy and not to disclose," he says. "But the flipside is, I have a number of clients who are reluctant to disclose (their diagnosis) and then don't disclose until things are going badly in their lives."
When the disclosure is made among family and friends, Mr. Cohen says it can be just as problematic because of lingering stigma related to ADHD and mental health. Taking a proactive approach often works best.
"I think it's important for people to advocate for themselves," he says. "It's often useful to try to provide education about the disorder and how it affects you. I think there's still an enormous amount of misleading information about ADHD and prejudice about it. The more that can be done to undo those misconceptions, the better."
Ms. Biles' response to the computer hackers' disclosure is a good method of handling the situation, Mr. Cohen said. He hopes her Olympic success can help to dispel some of the lingering myths about ADHD and how it might impede someone in work or school.
"She is a positive example of someone who can be affected by the disorder in her life and still be successful," he says. "People have the right to make their own decision about the privacy they maintain and to what degree. She is an example that you have a right to privacy, but [ADHD is] not something to be ashamed of. I hope she can be an inspiration for other people who have ADHD to not be ashamed of it."
Are you looking for strategies for handling your ADHD symptoms at work, regardless of your choice to disclose a diagnosis? Read Workplace Issues or watch our Ask the Expert interview with Melanie Whetzel of the Job Accommodation Network ADHD in the Workplace: Finding Success.