Including Exercise with Behavioral Interventions Can Increase Benefits
ADHD Weekly, February 20, 2020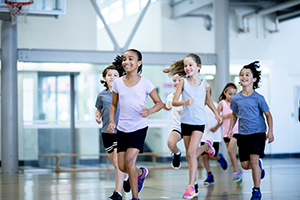 Behavioral interventions have been shown to help decrease ADHD symptoms for many children. New research considers how those interventions combined with physical exercise can increase benefits for some children.
A meta-analysis published in the Journal of Psychiatric Research demonstrated that evidence-based behavioral interventions can be successful for children. It highlighted aerobic exercises that target executive functions, stating that these seem have the most impact on symptom reduction.
"All the interventions showed moderate to large effect sizes, indicating their success in reducing cognitive symptoms, as compared to control or less effective interventions," researchers stated. "Although all behavioral interventions designed to aid ADHD seem to have a positive effect on cognitive symptomology, physical exercise, especially aerobic exercise that included targeting executive functions, appears to be the most effective."
Exercise can decrease ADHD symptoms
Physical exercise has long been known to help decrease ADHD symptoms for some people.
"We know that moving and activity enhance brain function," says Jeffrey Halperin, PhD, a former member of CHADD's professional advisory board. "Exercise—in particular, rigorous exercise—has been shown to affect a wide array of neurological processes. These kinds of activities enhance brain development and brain growth. The literature… shows that physical exercise increases all aspects of brain development."
The researchers who conducted the new study looked at how team sports as part of exercise could improve executive functioning.
"Although physical exercise, such as team or racket sports, appears most effective when it directly challenges executive functions, it may also improve cognition, albeit to a lower degree, when it simply provides aerobic stimulation," they write. "Acute bouts of intense aerobic exercise have been shown to improve executive functions due to neurotransmitter modifications which relate to central executive tasks."
This means exercise that moves your body enough to break a light sweat can also stimulate your brain to create more neurotransmitters, which can have an effect similar to taking medications to decrease ADHD symptoms.
"In the ADHD population, where the impairment is argued to be largely executive, physical exercise may be especially beneficial for improving executive functions. Improvements in these cognitive functions might decrease ADHD-related impairments of attentional and strategic flexibility, inhibition, planning, and working memory," they write.
Exercise as part of behavioral intervention?
Can including daily vigorous exercise be part of a behavioral intervention plan for ADHD management? The researchers are open to the possibility.
"Based on these findings, it could prove fruitful to integrate complex sports, such as ball sports, martial arts, and physical exercise that involve flexibility and inhibition of impulsive behaviors into an ADHD treatment regimen," they suggest.
"These play-based or exercise-based interventions are not going to be an acute treatment, like stimulant medication for ADHD," Dr. Halperin says. But they could "promote better long-term outcomes for children."
Learn more about exercise and ADHD:
Join the discussion: Do you include daily exercise into your ADHD lifestyle supports?