Is Therapy Using Horses Effective for ADHD?
ADHD Weekly, February 28, 2019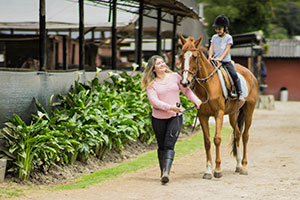 The bond between a child and his horse has long been romanticized. Is there something more to it than our images of young riders and gentle steeds?
Therapists and researchers are discovering that riding and caring for a horse can be therapeutic for many people, including children with ADHD.
Therapy animals for ADHD
Animal therapy isn't new, says CHADD resident expert L. Eugene Arnold, MD, MEd. It's a tool that has been proven successful with people who have an autism spectrum disorder. However, ADHD is not an autism spectrum disorder, he points out. There is some overlap in symptoms, he says, such as difficulty focusing and staying on task.
Most children like animals and want animals to like them in return, says Steve Klee, PhD. He is the associate executive director of clinical and medical services at Green Chimneys, a nonprofit organization with an animal-assisted therapy center in Brewster, New York.
"The advantage with animals in general is that their reaction is pure, and it's really based on how they're approached," Dr. Klee says. "So if a child is hurried and impulsive, the animal reacts very honestly and will withdraw. If a child approaches the animal in a manner that is not impulsive, but is calm, the animal will respond positively."
Why horses for therapy?
Dr. Arnold points to a theory that divides predatory animals from prey animals. Predators such as dogs need to hide their feelings to fool their prey, while prey animals—including horses, donkeys, and goats—do not.
"So horses, in contrast to dogs, would wear their feelings on their sleeve, so to speak, which makes them easier to relate to," he explains.
It's an idea supported by the Equine Assisted Growth and Learning Association, or Eagala, model of horse-based therapy. In the Eagala program people interact with horses but don't ride them. All of the therapy work is done on the ground, in an arena, allowing the person and the horse to interact together on their own terms. The goal is to help the person to make connections, first with the therapy horse and later with other people.
Horseback riding as therapy
Both therapeutic and recreational horseback riding are frequently recommended for individuals with ADHD. This is because horses respond to both spoken and nonspoken communication through the use of reins and the rider's legs to direct them. Taking part in this system of communication may provide some of the therapeutic benefits of working with a horse.
"The rhythmic stride of the horse is calming, and after a while, the horse and rider kind of blend into one—they work together, almost as if they were one organism," says Dr. Arnold.
Many of the common goals of ADHD therapy—increased focus and organization, as well as improvements in executive functioning—can be met by riding and caring for a horse. That means participation not only in regular feeding and grooming, but in saddling the horse for riding. For the rider it includes concentrating on his posture and foot and hand placement, as well as a sense of being in control of the horse.
"You need to check on all these things before you start," explains Dr. Klee. "So it's not just the organization of getting the animal ready, it's really the organization of what do you have to do before you even start to move."
A horse's size is also part of what makes working with horses effective for children with ADHD. Running at a horse may scare the animal, potentially causing real danger, since horses often kick or buck when they're alarmed. Most children want the horses to feel safe and find ways to check their own behavior around them.
"Children don't want to hurt the animals, so being around them can just lower their activity threshold as well—just being in a calmer atmosphere," says Dr. Klee.
Most young riders with ADHD begin lessons about age six. Experienced riders advance to more intense work with an instructor familiar with their abilities. That could include jumping, dressage, or interactive vaulting.
Therapy for related conditions
Horse care and riding can play a role in improving the symptoms of conditions that co-occur with ADHD.
"Both depression and anxiety have really been helped, because what we're looking for are areas where they can be successful and feel good about themselves," says Dr. Klee. "When they have a positive interaction with a horse or any other animal, they learn about them and they feel confident, because they now know how to feed, groom, and ride them. All of that builds confidence and competence. We find it's really helpful in working with both anxiety and depression. They've gained a skill and they can see the results and feel good about it. It does help with other diagnoses."
Partnering with Horses—A Primer
Equine facilitated psychotherapy is one of several equine assisted activities or therapies with horses available for children and adults with disabilities. The physical, emotional, and social benefits of these activities have long been noted, although more scientific investigation is needed to establish the evidence base. Examples of equine assisted activities include:
Therapeutic riding. Participants engage in mounted activities taught by a PATH-certified instructor that may consist of adaptive riding or traditional riding disciplines
Hippotherapy. The movement of the horse is used as a treatment strategy by a specially trained physical, occupational, or speech therapist in therapy sessions.
Interactive vaulting. Participants perform movements on and around the horse.
Therapeutic driving. Participants engage in carriage driving from a carriage seat or wheelchair; can be done in competition.
Competition. Participants engage in team or individual equestrian sports, competing at local, regional, national, or international levels in events that may be inclusive or offer divisions for riders with disabilities.
According to the Professional Association of Therapeutic Horsemanship International (PATH Intl.), more than 66,179 children and adults with disabilities, including more than 6,200 veterans, participate in equine assisted activities or therapies at PATH centers. More than 62,469 volunteers assist, more than 5,011 instructors teach, and more than 7,800 therapy horses serve as partners in these programs. More than 850 member centers currently offer services in the United States and Canada, and the number grows each year.
PATH programs serve individuals with a wide range of disabilities, including attention disorders, autism, intellectual disability, muscular dystrophy, developmental delay, hearing impairment, spina bifida, visual impairment, spinal cord injury, learning disability, emotional or behavioral disorders, head trauma/brain injury, paralysis, multiple sclerosis, Down syndrome, cerebral palsy, and so forth.
Consult your physician regarding the appropriateness of the specific equine assisted activity in which you or your child might be interested, as there are contraindications associated with some conditions. While therapeutic riding might not be appropriate for some individuals with certain mobility, balance, emotional, or physical considerations, therapeutic driving might be a wonderful activity.
To learn more or to find a program near you, visit PATH and click on Centers. The website provides listings of centers that are fully-accredited PATH centers and of facilities that are PATH members. To learn more about hippotherapy, visit the American Hippotherapy Association. For more information about research on equine assisted activities/therapies, go to the Horses & Humans Research Foundation.
—Updated from Equine Facilitated Psychotherapy: Fostering Resilience and Self-Esteem in Children and Adults with ADHD and Related Disorders
Looking for more?
Did you know…
The prefix "hippo-" comes from the Greek word for "horse." In Latin the word for horse is "equus," from which we get "equestrian" to refer to a horseback rider or sports that include horses. Both of these ancient words are used to describe activities involving horses today.
Join the discussion: Have you used animal therapy for yourself or with your child?