Lighten Your Child's Backpack Load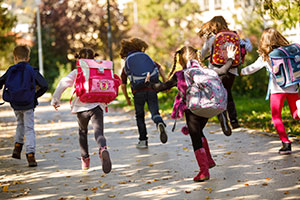 All across the country, backpack events will educate parents, students, educators, and school administrators about the serious health effects heavy backpacks worn improperly have on children. Every year, children who have backpack-related injuries are treated in hospitals and clinics. Countless students display stooped posture and complain of aching backs and shoulders and/or tingling arms. Too much weight improperly supported over time can cause long-term problems for developing spines. According to a Boston University study, approximately 85 percent of university students self-report discomfort and pain associated with backpack usage. Good habits need to be set during the school years.
For those of us whose children have ADHD, more often than not we are more concerned that our children have remembered their backpacks and have the right books in them than that they are carrying them correctly.
For students with organizational challenges, taking everything with them all the time seems like the best strategy. But the weight soon adds up. Using their lockers between classes to switch out books is often a step too far in time—and that locker has its own organizing challenges. So, what do we do?
Pediatric occupational therapist Zara Harris has worked with many children injured by overweighed backpacks. She has suggestions for you on:
Choosing the right backpack for your child

Packing it light—tips for carrying less

Wearing it right to reduce the risk of injury