"What Does This Accommodation Look Like?"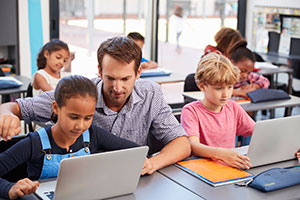 Ask the Expert Highlight: What: Academic Evaluations – What Parents Need to Know
Featuring Missy Alexander, Parent Educator
"What does this accommodation look like in the classroom?"
Parent Educator Missy Alexander says that is the most important question to ask during your child's 504 Plan or IEP meetings.
What you'll learn in this webcast to advocate for your child's education:
Making the system work for your child

Your rights and your child's rights under IDEA

The importance of academic evaluations and what they include

The questions you need to ask
Get tips and information you need to make the education team meeting successful for your child.
Missy Alexander
is a parent educator for the Parents' Place of Maryland, a National Parent Technical Assistance Center in Southern Maryland, facilitating workshops on a variety of topics. Ms. Alexander is active on many regional, state, and national councils and boards focusing on children with special needs. She has also been a guest lecturer at Towson University, Johns Hopkins University and The College of Southern Maryland on parenting a child with autism. Ms. Alexander is on the board of directors for the Learning Disabilities Association of Maryland. She is an active member and former chairperson of the Council of Parent Attorneys and Advocates.